1770 Whisky
Now available - Glasgow 1770 Golden Beer Cask Finish and Tokaji Cask Finish
Wednesday 07th December 2022
After the fantastic reception of our first Glasgow 1770 Small Batch Series released earlier this year, we're excited to announce the second set of single malts within this exciting cask exploration series. The two new cask finished releases provide a focus on our unpeated single malt style and continue our exploration of flavour within whisky.
GLASGOW 1770 GOLDEN BEER CASK FINISH
70cl | 58.5% | £59 | 356 Bottles
Stepping into the world of beer finishing, Glasgow 1770 Golden Beer Cask Finish has been finished in a Pedro Ximenez sherry hogshead which had previously matured Innis & Gunn's Original Beer for three months. The time spent in the cask has given the beer fantastic dried fruity flavours which adds the finishing touch to the signature malty and vanilla taste of The Original. The casks weren't empty for long as we soon filled the PX casks with our ex-bourbon matured whisky for four months giving a rich, sherry influenced whisky with notes of dark fruits, sticky toffee and rich vanilla, with a dry and hoppy finish.
The Golden Beer Cask Finish release is available from the Innis & Gunn Taproom in Glasgow's Ashton Lane where it can be tried alongside the limited edition beer that preceded it within the cask.
Tasting notes:
Nose
Dark fruits, creamy vanilla, honeycomb and cookie dough. Notes of tropical fruits, apricot, and ginger lead to rich malty notes with a hint of hops.
Palate
Dark berries, plums and passion fruit meet roasted malt, sweet sticky toffee and fudge. Rich honey and cream combine with vanilla and more malty sweetness.
Finish
Brown sugar and oak spice with a long dry hoppy finish.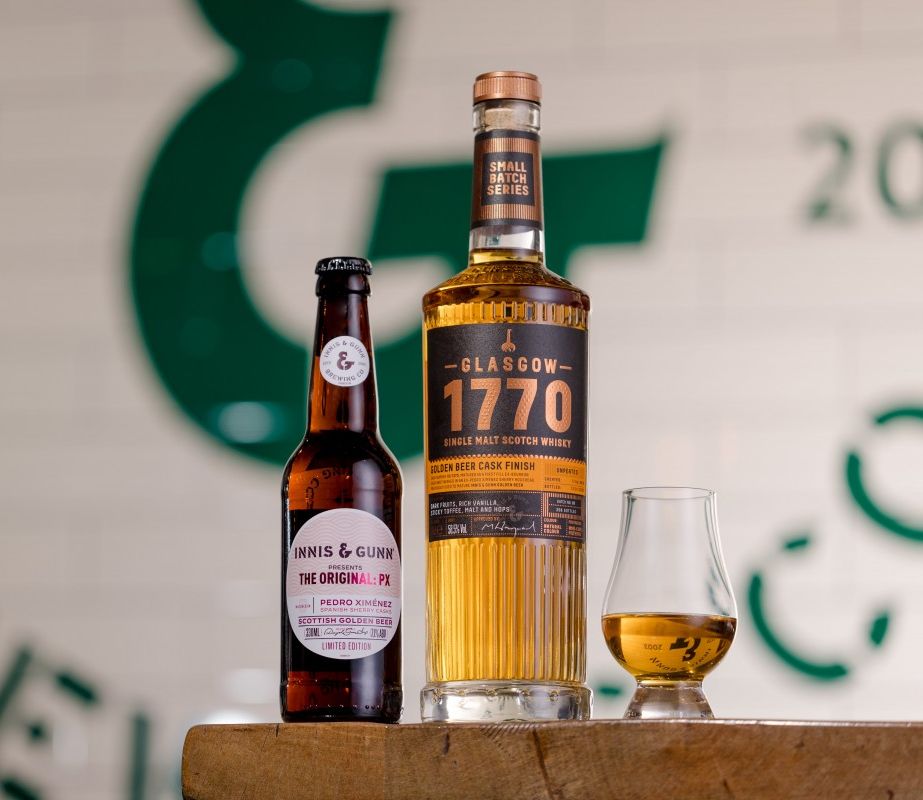 GLASGOW 1770 TOKAJI CASK FINISH
70cl | 58.1% | £59 | 210 Bottles
A primary maturation in ex-bourbon casks of two years and five months before a secondary maturation of just over 18 months in the Hungarian Tokaji cask.
Not heard of Tokaji? Tokaj is Hungary's most famous wine region found in the northeastern part of the country. The wine region spans over 13,000 acres of planted vines and hundreds of different wineries. The region is known for its sweetness which is the work of the desired fungus in the area that creates flavours of peach, honeycomb and orange. The fungus shrivels up the grapes concentrating the sweetness which in turn gives you the true heart of Tokaj's wines.
Layering on top of the fruity notes of the ex-bourbon casks, the whisky has developed into a rich, punchy, sweet and fruity single malt with notes of vanilla ice cream and apricot jam.
Tasting notes:
Nose
Fruity and zesty with notes of orange peel, dried apple and juicy sultanas. Hints of almond, poached pear and custard
Palate
Rich honeycomb, shortbread and vanilla give way to notes of fresh mango and pineapple and apricot jam.
Finish
Warming earthy spice with poached fruits and hints of nutmeg.