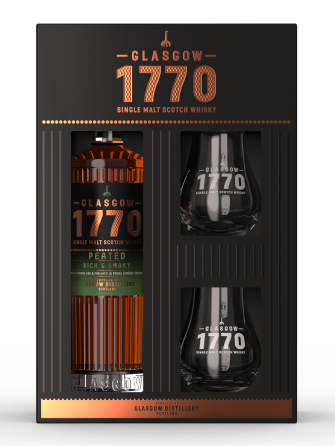 [% bottle_label %]

[% carton_label %]

[% bottle_label_peated %]

[% carton_label_peated %]
Glasgow 1770 Signature Range Gift Boxes
Meet the Glasgow 1770 Signature Range Gift Box. Here's how it works:
Step 1: Choose your favourite 70cl bottle from our single malt Signature Range - Glasgow 1770 The Original, Peated or Triple Distilled.
Step 2: Choose your accompanying gift that will sit alongside your full-size bottle: 5cl miniature bottles, or branded glassware in gift cartons.
If you choose the 5cl miniature bottles in Step 2, you will automatically receive the two other Signature expressions that complement your main bottle selection in order you give you a taste of our full Glasgow 1770 Signature Range. So, if you have chosen a full 70cl of The Original, you will receive a 5cl bottle of Peated and a 5cl bottle of Triple Distilled.
Delicious none Cocktails
There were no products found matching your search criteria