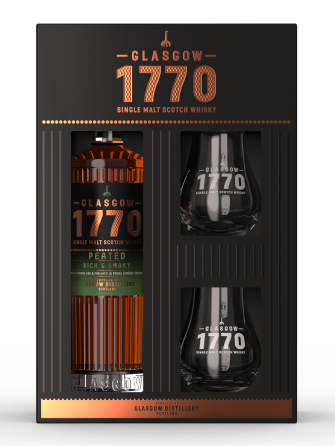 [% bottle_label %]

[% carton_label %]

[% bottle_label_peated %]
Glasgow 1770 Triple Distilled
Smooth & Vibrant
Glasgow 1770 Single Malt Scotch Whisky – Triple Distilled is an incredibly smooth and vibrant addition to the Glasgow 1770 Signature Range.
Crafted from the finest malted barley; distilled three times in our traditional copper pot stills; combined with the incredibly pure water of Loch Katrine and matured in a combination of ex-bourbon and virgin oak casks, married together before bottling to produce an incredibly smooth and vibrant spirit.
Glasgow 1770 is always non-chill filtered and has natural colour only.
About This Item
1770 Triple Distilled Spirit Sheet

Cask type
Ex-bourbon and virgin oak

Drink with
Neat, over ice or with a splash of water

Pair with
Soft cheeses, dried fruits and dry roasted nuts
Calories
100ml = 254kcal / 1053kj
25ml = 63.50kcal / 263.25kj
Tasting notes
Smooth and Vibrant
Nose
The nose opens up to sweet vanilla and white chocolate leading to fresh summer fruits of aromatic apple, pear and peaches.
Palate
The palate is well balanced and smooth with vibrant vanilla, soft caramel and double cream opening up to succulent orchard fruits and berries followed by delicate floral notes alongside a sweet almond nuttiness.
Finish
The finish is long and lingering with notes of rich honey, anise and black pepper and hints of warming woody spice.
Delicious 1770 Single Malt Cocktails
There were no products found matching your search criteria