STAND UP FOR THE GOOD STUFF
Malt Riot Blended Malt Scotch Whisky
Malt Riot tells the tale of the people of Glasgow who came together for what they believed in.
It's the year 1725 and the Government attempt to impose a tax on Scotland's malted barley. The Scots, foreseeing an increase in the cost of whisky, beer and other daily essentials rise up in opposition.
In Glasgow, malt stores are barricaded and the devilish excise men are chased from the city. The home of the local member of parliament, and former tax collector, is destroyed. In a bizarre twist of fate, the MP is compensated for the damage and uses the money to purchase the Island of Islay and part of Jura. He encourages local farmers to seed surplus barley and thus igniting the legal production of Single Malt Scotch Whisky on the Islands and across the nation.
Inspired by the malt riots, first in Glasgow and then across Scotland, Malt Riot Blended Malt Scotch Whisky VAT No.6 is a selection of handpicked single malts from across Scotland with Glasgow 1770 Single Malt at its heart. Mix, over ice, with ginger ale or use Malt Riot as the central ingredient to a refreshing whisky sour.
#StandUpForTheGoodStuff
Shop Now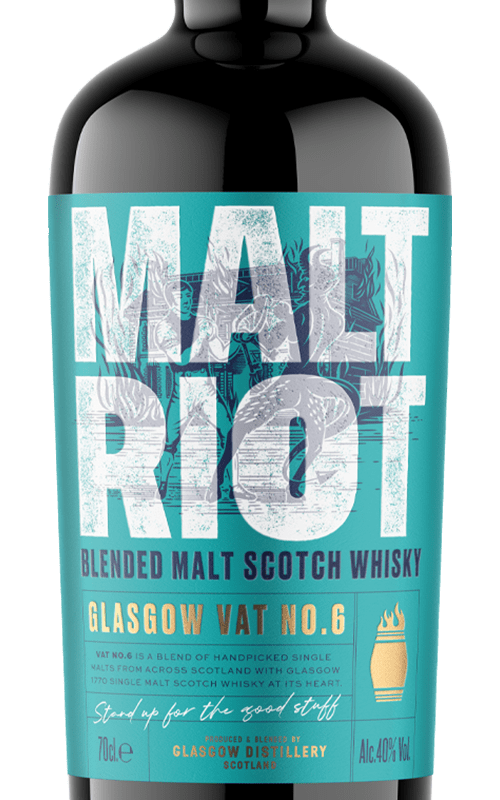 Malt Riot Blended Malt Scotch Whisky
Our Products
Malt Riot Expressions
Delicious Malt Riot Cocktails
There were no products found matching your search criteria