1770 Whisky
Meet The New Glasgow 1770 Single Malt Small Batch Series
Tuesday 23rd August 2022
Two new limited-edition expressions of Glasgow 1770 Single Malt Scotch Whisky are now available as part of our new Small Batch Series which pushes the realms of flavour innovation within our distillery.
The two new expressions, a peated single malt finished in cognac casks and an unpeated single malt finished in a tequila cask, are the first of the new series, which demonstrates our innovative cask trials across the three styles of whisky we produce. These releases are an insight into the great whisky samples we try every day at the distillery, and reflect our ethos of exploration and discovery.
Both of these new limited edition releases are available from today for £59 per 70cl bottle. Find them on our website (limited to one bottle of each per person) and at select specialist retailers in the UK, including Master of Malt, The Good Spirits Co, Royal Mile Whiskies, Stevie's Drams, Robbie's Whisky Merchants, and Robert Graham.
Both expressions will soon be available in Germany, with the Cognac Cask Finish soon to be available for our whisky fans in the Netherlands and South Korea.
GLASGOW 1770 COGNAC CASK FINISH
882 Bottles | 56% ABV | 70cl
A marriage of two casks, 18/963 and 18/964, virgin American white oak barrels that were initially filled on the 14th of March 2018 before being moved into ex-cognac brandy barrique casks in November 2020. Married together, emptied and bottled on the 16th of June 2022 without chill filtration and at natural colour, Cognac Cask Finish is 56% ABV and only 882 bottles are available.
This is an alternative spin on our peated whisky style – offering our signature smoky flavour profile with a French twist of dark fruits, dried apricots and toasted spices. Notes of smoky BBQ sauce, sticky sweet tobacco and crystallised ginger come together with a long fruity finish with distinctive notes of dark chocolate and black coffee.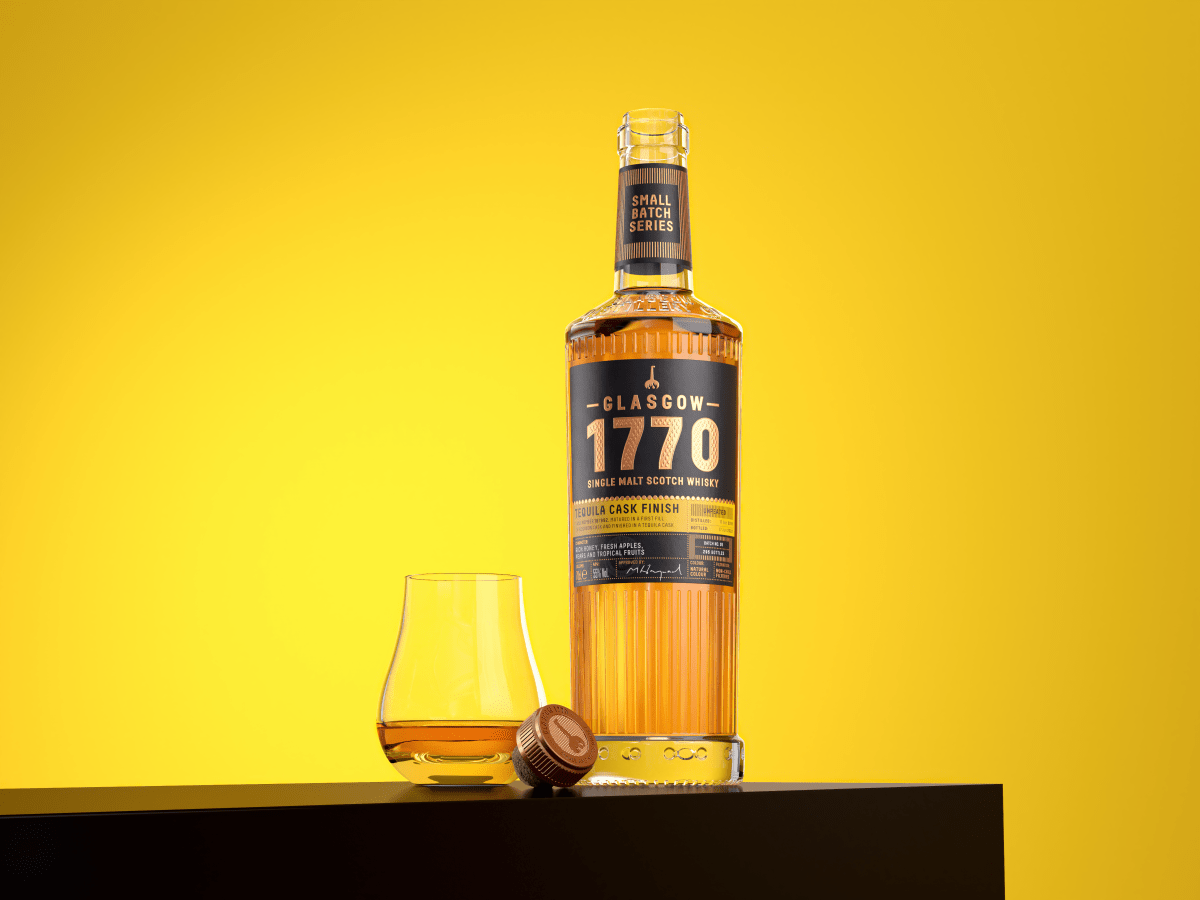 GLASGOW 1770 TEQUILA CASK FINISH
295 Bottles | 55% ABV | 70cl
Filled on the 17th of October 2018 into a first fill ex-bourbon cask before moving in January 2021 into an American oak barrel that previously held tequila. Emptied and bottled on the 17th of June 2022, this is a true representation of our unmasked sweet and fruity unpeated spirit that is gently accompanied by the rich honey and tropical notes gained from the tequila cask.
A single cask bottling, only 295 bottles are available at 55% ABV. Non-chill filtered and natural in colour, this is a unique take on our unpeated whisky style and offers bright and zesty notes of orchard fruits and tropical citrus, pineapple combined with creamy shortbread with a sweet white pepper finish.