Glasgow Distillery
Glasgow's Unsung Heroes: SJ Cameron & JR Kelley from ScotSERVS
Wednesday 15th April 2020
Over the last few months, we have heard so many devastating news stories on the television, across our social feeds and even through word of mouth.
Three weeks ago, we launched our 'Glasgow's Unsung Hero' campaign' across our social media channels in the hope that we could spread a little bit of positivity and reward Glasgow's hard working and generous individuals at such an uncertain and destabilising time.
Read the story of last weeks winners, Chris and Claire, from Well-Fed Scotland here.
This week's winners are SJ Cameron and JR Kelley, who are founding members of ScotSERVS (Scottish emergency rider volunteer service). 'SCOTSERVS' is Scotland's only Volunteer Emergency Medical Transport Charity and is set up to help support the NHS throughout Scotland and beyond, delivering vital life saving equipment and medication between hospitals and to patients at home.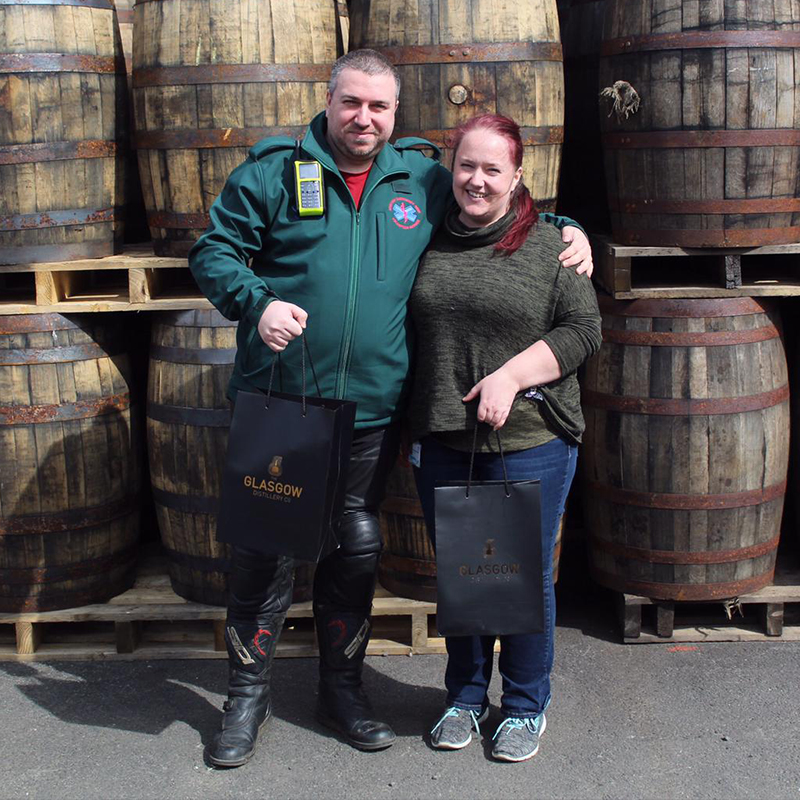 This is what Jason and SJ had to say to us when they came to collect their bag full of Glasgow Distillery treats:
"ScotSERVS supplies medical transport to the NHS in Glasgow, primarily dealing with the Royal Hospital for Children. ScotSERVS help to deliver specialist medication, cancer treatment and other items to homes so that we keep patients at home rather than bringing them into hospital. This is even more important at the moment obviously with the outbreak of coronavirus, so our workload is increasing on a daily basis, just simply trying to keep our patients at home!
"We have 55 volunteers in Glasgow alone and we are trying to expand the team further afield to benefit as many patients as we possibly can.
"We have been at this for ten years now so yes we support the Royal Hospital for Children here in Glasgow, but we support kids all over Scotland and beyond so even though the team is based in Glasgow, we've been all the way down to London and up to inverness ...our patients are based all over.
"In terms of how COVID-19 has affected our daily tasks, well, many of the patients that we deal with are immunocompromised. Before the outbreak, we would bring them into hospital, they would stay for a couple of hours and then they would go home after their treatment but now we are trying to keep as many patients as possible at home self isolating so they're not exposed to as much risk which means our volunteers have to take special precautions coming in and out of hospital with them and we need to limit their time on site and so on.
"We are busier than ever which is an interesting place to be in especially as a charity because people cant do any events all of our public fundraising vanished over night so yeah we are doing more than before at a time when we are actually really stretched for funding."
ScotSERVS volunteers are on Scotland's roads 365 days a year and, on average, respond to around 3000 call-outs a year, covering around 1000 miles a month.
Thanks you for being Glasgow's Unsung Heroes!