Glasgow Distillery
Welcoming Spring with a 15% Off Sale
Thursday 11th March 2021
Giving spring a warm welcome with the launch of our fantastic Glasgow Distillery Spring Sale
We are thrilled to finally be saying goodbye to the cold, dark and rainy winter nights and we warmly welcome the longer, brighter and sunnier days of Spring.
We'd like to put a little extra pep in your step this springtime, so we are offering 15% off a wide range of our multi award-winning spirits, as well as two free perfectly paired mixers with every bottle you order. It doesn't just stop there though, because if you spend over £50, you'll also receive free UK delivery.
✅ 15% off your favourite spirits (Single Malt, Blended Malt. Gin, Rum & Vodka)
✅ 2 free Fever-Tree mixers with every bottle order
✅ Free UK delivery for all orders over £50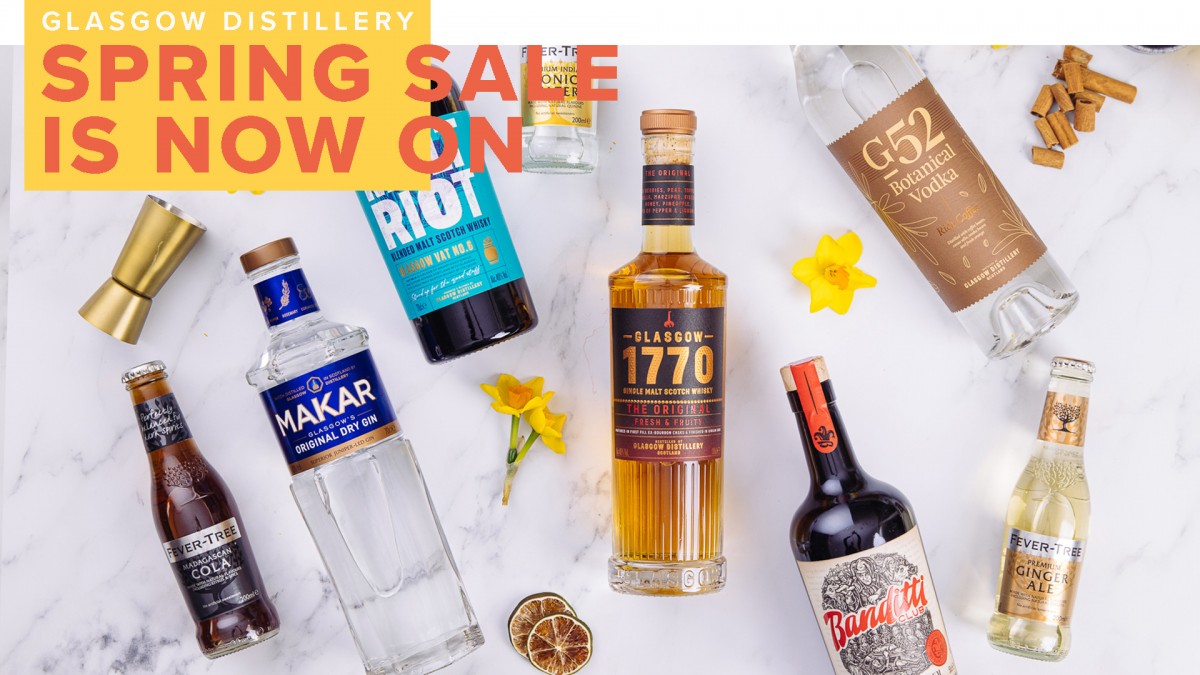 Glasgow 1770 Single Malt Scotch Whisky, Makar Gin, Banditti Club Rum, G52 Botanical Vodka and Malt Riot Blended Malt are all included in the Spring Sale, so you have a wide variety of delicious spirits and flavour preferences to choose from.
Why not opt for our spiced Banditti Club Rum, which was recently awarded a Gold Medal in the 2021 Rum Masters?
With natural sweetness and warm spice on the nose, Banditti opens up to toasted pineapple and orange on the palate that lead to a long, spicy, fantastic finish.
If rum doesn't take your fancy, why not opt for one of our multi award-winning Glasgow 1770 single malt whiskies?
Choose from our Fresh & Fruity Glasgow 1770 The Original, our Rich & Smoky Glasgow 1770 Peated or our Smooth & Complex Glasgow 1770 Triple Distilled single malt.