Glasgow Distillery
The Year in Review - 2022
Thursday 22nd December 2022
The year 2022 has come to an end and what a year it has been! With the world back to some sort of normal, it's been full speed ahead all day, every day here at The Glasgow Distillery. Over the course of 2022 we've poured an incredible amount of whisky, gin, rum and vodka in a number of different countries and of course, have had a lot of fun in the process.
As always, we're overwhelmed with our customer support across the globe. Merry Christmas and Happy New Year to all!
Let's see what 2023 has to offer...
Our 2022 Highlights
Headline Sponsor of Glasgow Whisky Festival 2021
The team had a fantastic time finally celebrating the much-anticipated Glasgow Whisky Festival 2021 in February 2022 as headliners of the show. For the festival, we worked closely with the organisers to find a special cask to bottle, that cask being a Peated Marsala cask from August 2017. We launched the bottle at the event with Royal Mile Whiskies which also had a number of bottles available online for our overseas customers. A sweet yet smoky release that was really well received.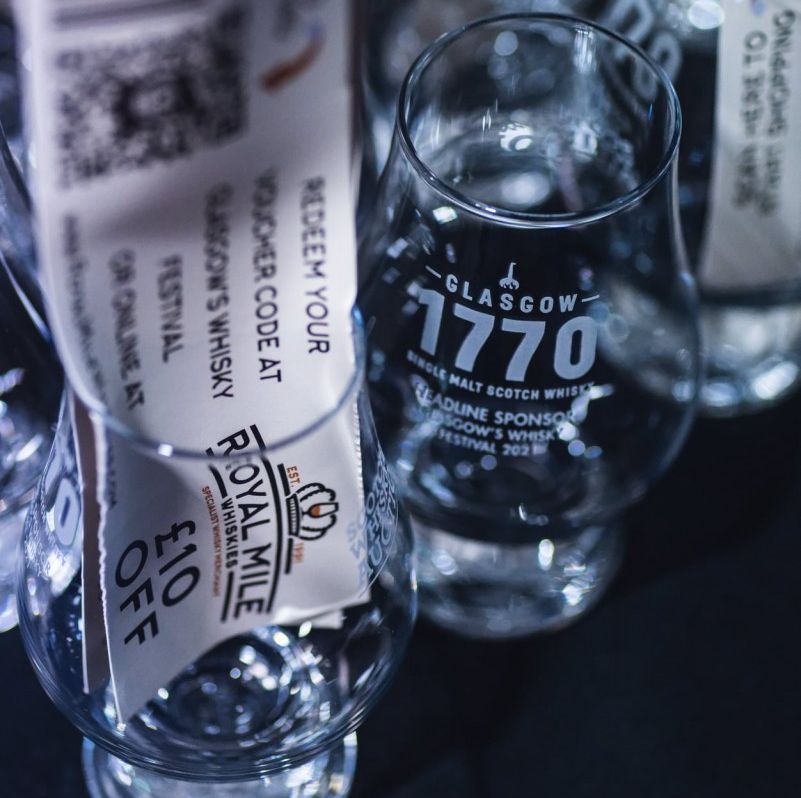 Launch of 70cl Glasgow 1770 Single Malt Scotch Whisky
Working closely with our distribution network, back in April we launched our new Glasgow 1770 70cl bottles. As Glasgow began bounce back after a tough couple of years, we wanted to ensure we were coming back bigger and better than before, too. This new packaging has done just that by expanding our horizons for international exports and opening exciting new markets.
Accessibility has always been of the utmost importance to us, and with an increase in production and an expanding global reach, we were happy to maintain a price of £49 for our three Signature Range expressions at the new, larger, volume.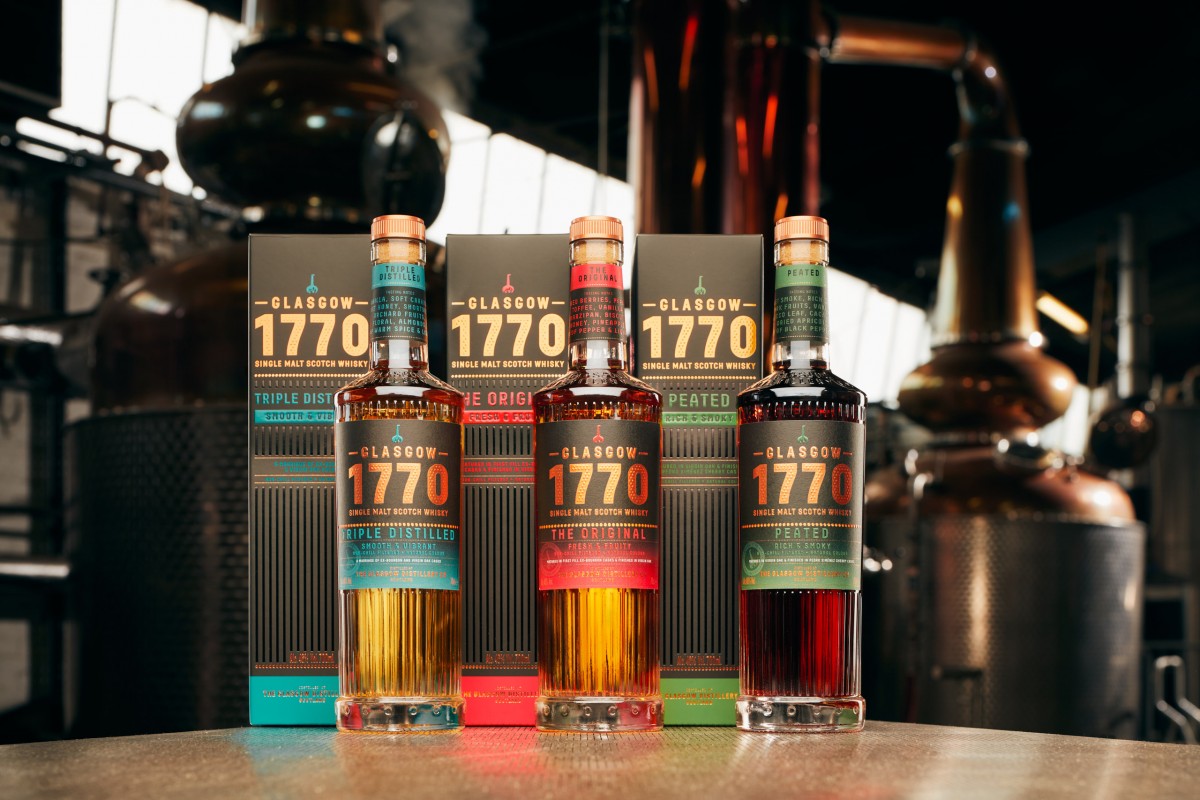 Awards
International Wine & Spirits Competition (IWSC)
Glasgow 1770 Single Malt - Triple Distilled – Gold
Spirits Business Awards
Glasgow 1770 Single Malt - Triple Distilled – Master
Glasgow 1770 Single Malt - Sauternes Cask Finish (Limited Ed) – Master
Makar Old Tom Gin – Gold
Banditti Club Rum - Port Cask Finish (Limited Ed) – Silver
Scottish Whisky Awards
Malt Riot – Silver
Whisky Magazine – World Rum Awards
Banditti Port Cask Finish – Gold and Best in Class
International Whisky Competition
Glasgow 1770 Single Malt - Peated – Gold and Best Lowland Winner
China Wines & Spirits Awards
Glasgow 1770 Single Malt - The Original – Gold
London Spirits Competition
Makar Old Tom Gin – Silver
Triple Distilled – Silver
Bartender Brands Awards
Makar Old Tom Gin – Taste – Gold
Makar Old Tom Gin – Value – Gold
Scottish Gin Cooperative Awards
Makar Old Tom Gin – Old Tom Scottish Gin – Silver
Two new Banditti Club Limited Edition Rums
Port Cask Finish
Back in April, we launched our first barrel aged rum, Banditti Club Port Cask Finish. Matured initially in new virgin oak casks and finished in first-fill tawny port casks before being bottled at 52.4% ABV. Packed with flavour, each bottle of rum within the small batch release was individually numbered and hand labelled by the team.
Smoky Rogues
A release that saw our award-winning Banditti Club Spiced Rum finished in Glasgow 1770 Peated whisky casks for around 18 months, creating a perfect tipple for discerning rum fans perfectly timed for the colder months. Delicious flavours of dark chocolate, Christmas cake and spiced orange combine with smoky tobacco notes, mulled spices and zesty marmalade. A long finish with a subtle smokiness, hints of roasted pineapple and earthy spices.
Four new Glasgow 1770 Single Malt Small Batch Series Releases
Cognac Cask Finish – 56%
A marriage of two casks, 18/963 and 18/964, virgin American white oak barrels that were initially filled in March 2018 before being moved into ex-cognac brandy barrique casks in November 2020. Married together, emptied and bottled in June 2022 without chill filtration and at natural colour, Cognac Cask Finish is 56% ABV and only 882 bottles were available.
Tequila Cask Finish – 55%
Filled in October 2018 into a first fill ex-bourbon cask before moving in January 2021 into an American oak barrel that previously held tequila. Emptied and bottled in June 2022, this was a true representation of our unmasked sweet and fruity unpeated spirit, gently accompanied by the rich honey and tropical notes gained from the tequila cask.
Golden Beer Cask Finish – 58.5%
Stepping into the world of beer finishing, Glasgow 1770 Golden Beer Cask Finish has been finished in a Pedro Ximenez sherry hogshead which had previously matured Innis & Gunn's Original Beer for three months. The casks weren't empty for long as the beer came out, we soon filled the PX casks with our ex-bourbon matured whisky for four months giving a rich, sherry influenced whisky with notes of dark fruits, sticky toffee and rich vanilla, with a dry and hoppy finish.
Tokaji Finish – 58.1%
A primary maturation in ex-bourbon casks of two years and five months before a secondary maturation of just over 18 months in the Hungarian Tokaji cask. Layering on top of the fruity notes of the ex-bourbon casks, the whisky has developed into a rich, punchy, sweet and fruity single malt with notes of vanilla ice cream and apricot jam.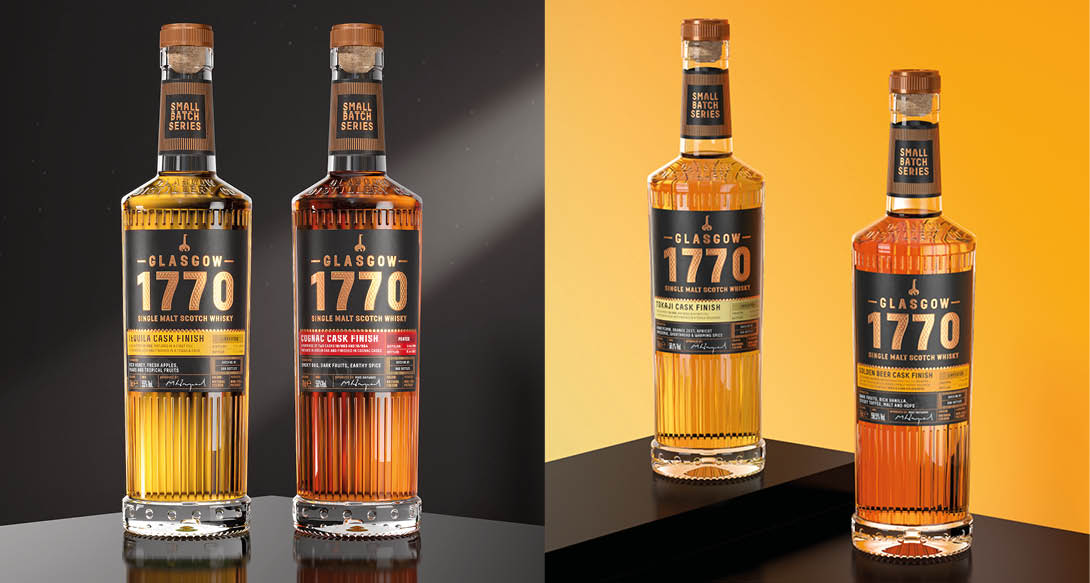 Pop up shop in Princes Square
After the success and popularity of last year's Pop-Up Shop, we set up in Princes Square this year and are happy to say it has received the same reception. With our distillery closed to the public, it's great to have some time to engage with our customers, especially during the festive season. Our Glasgow 1770 festive whisky crackers were especially popular this year and sold out in record time.