Glasgow Distillery
Bring In The Warm Weather With Our Summer Serve Cocktail Kits
Thursday 01st July 2021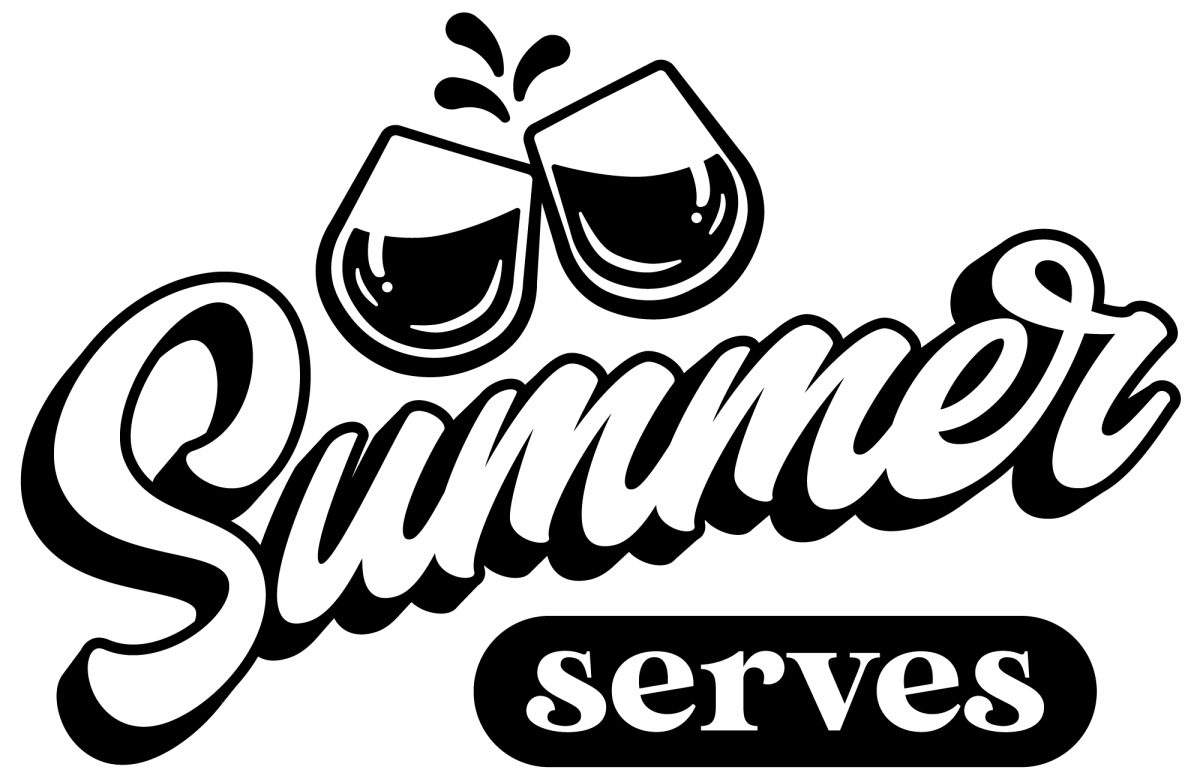 Summer has well and truly arrived here in Glasgow this week, so you'll be delighted to hear we have plenty of refreshing Summer Serves ready for you to discover.
We have hand picked several multi award-winning Glasgow Distillery spirits and concocted a menu of various long drinks, refreshing tipples and deliciously fruity cocktails that are undeniably easy to shake up from the comfort of your own home or garden throughout the warm summer months.
And guess what? We've made it easy for you... Instead of popping out to the shop to buy all the required ingredients to craft your chosen Summer Serve, simply purchase one of our Summer Serve Cocktail kits which contain all of the components you need.
Consider yourself a gin enthusiast? Why not opt for our fantastically fruity Makar Cherry Gin Spritz? Or perhaps you consider yourself a whisky drinker and our light and zingy Glasgow 1770 Elderflower Soda tickles your fancy?
Purchase one of our kits today and we guarantee you're bound to impress not just yourself, but your friends and family too!
DISCOVER OUR SUMMER SERVES HERE
Makar Cherry Gin Spritz: Perfect for those longer summer days and lighter nights, the Makar Cherry Spritz is fantastically fruity with a long and slightly spicy finish.
Makar Cherry Gin is handcrafted at The Glasgow Distillery. Makar Cherry Gin is flavoured by soaking ripe cherries and a handful of pink peppercorns in the distillery's juniper-heavy Makar Original Dry Gin before pressing to release maximum flavour. This fruity drink is of superior quality and the perfect summer tipple.
Kit components:
Makar Cherry Gin - 50cl
Folkington's Cranberry Juice 250ml
Bottega Prosecco 200ml
Monin Sugar Syrup 250ml
1 X Cocktail Card
DISCOVER MAKAR CHERRY GIN SPRITZ HERE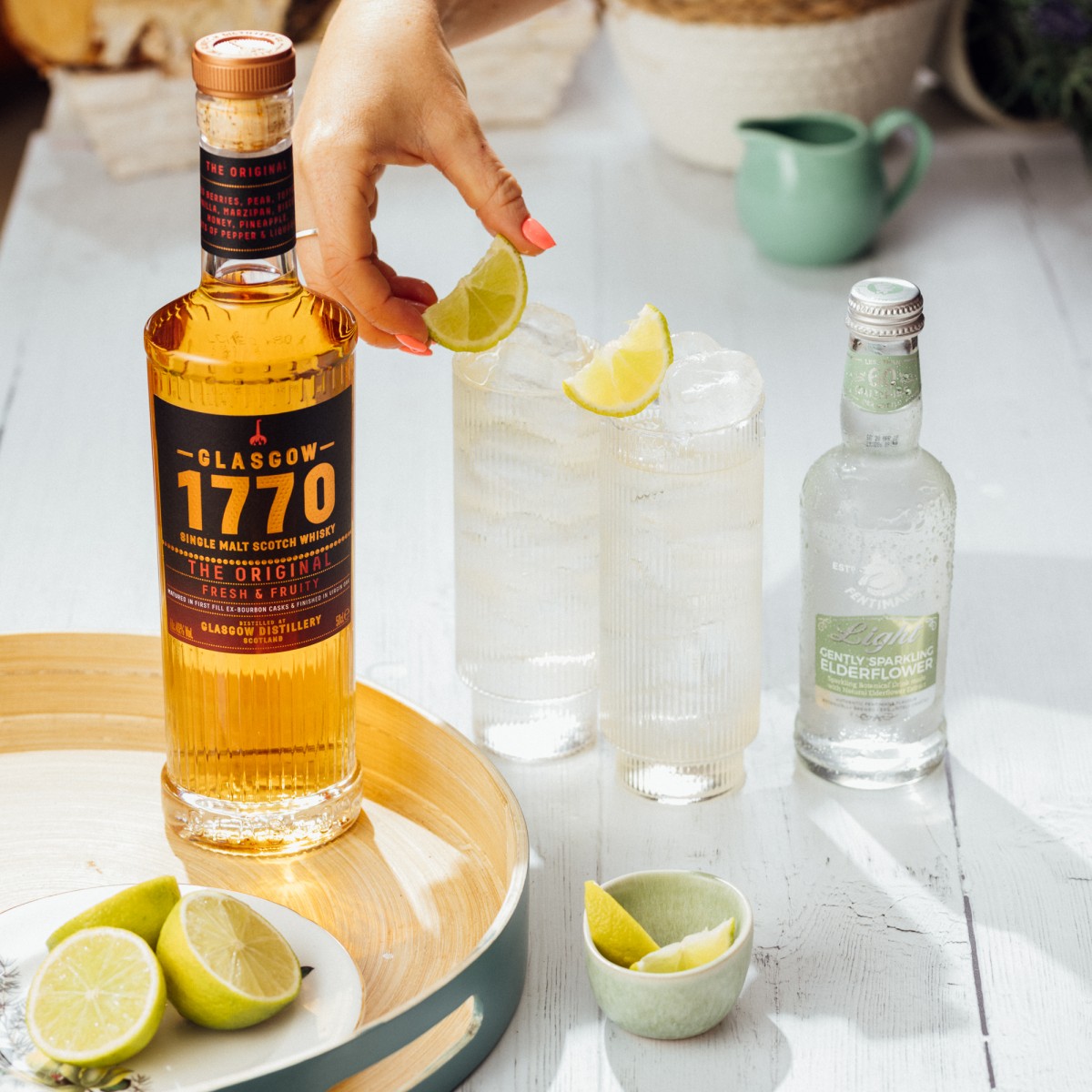 Glasgow 1770 Elderflower Soda: A simple mix of Glasgow 1770 Single Malt whisky with a light and zingy elderflower soda. Simple, yet wonderfully refreshing.
Glasgow 1770 'The Original' is matured in first fill ex-bourbon casks, finished in virgin oak and non-chill filtered; Glasgow 1770 'The Original' is incredibly smooth, exceptionally fruity and complex; a single malt of sublime quality that continues the rise of a new whisky era in Glasgow.
Kit components:
Glasgow 1770 Single Malt Scotch Whisky - 'The Original' - 50cl
4 X Fentiman's Gently Sparkling Elderflower soda
1 X Cocktail Recipe Card
DISCOVER GLASGOW 1770 ELDERFLOWER SODA HERE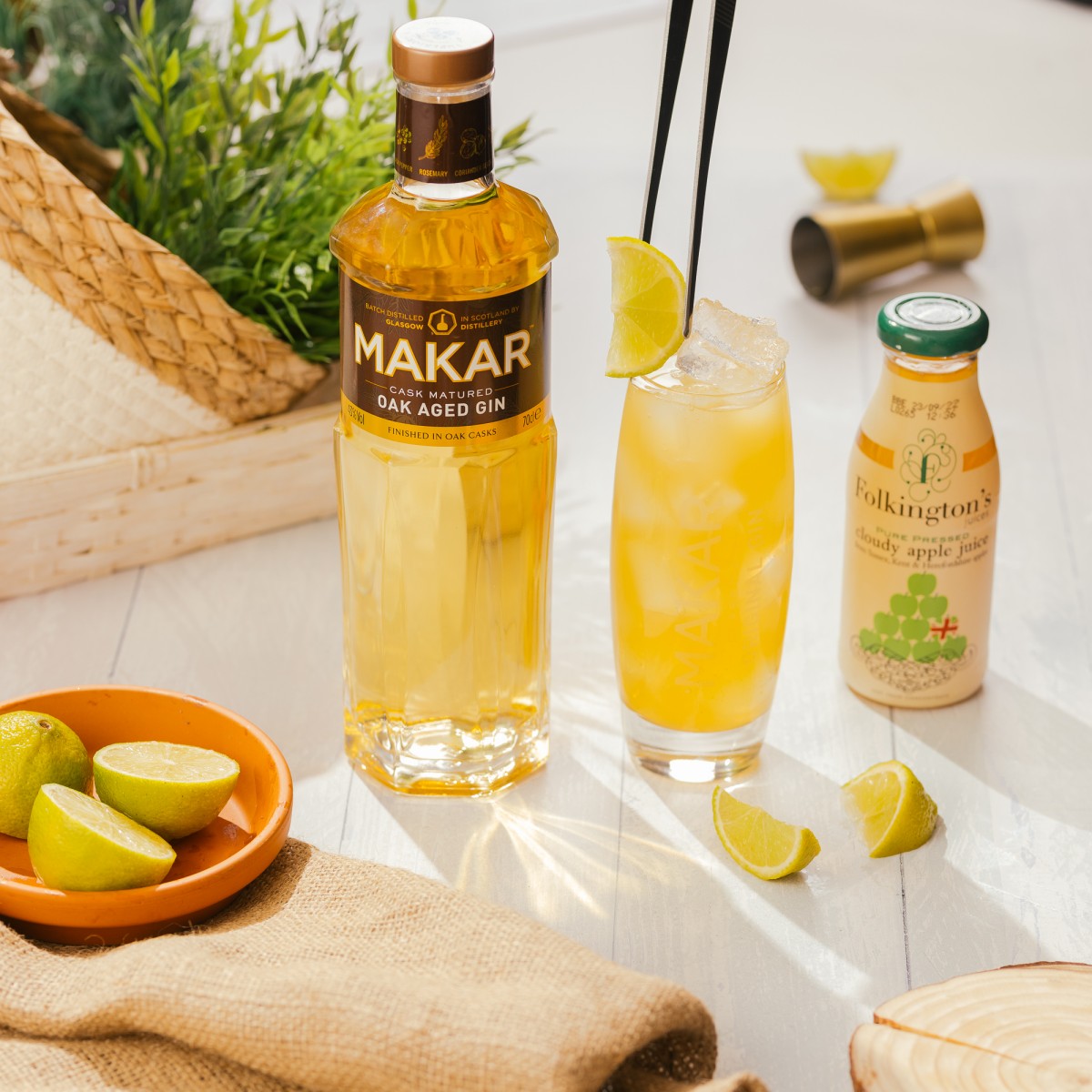 Makar Oak & Apple: A simple combination of our multi award winning cask-matured Oak Aged Gin and cloudy apple results in a wonderfully balanced yet complex highball serve. Perfect for sipping on any occasion, but especially out by the fire-pit on those warm summer nights.
Makar Oak Aged Gin is matured for 10 weeks in bespoke oak wood casks. The result is a delicious marriage of our vibrant, juniper-led Makar Original Dry Gin with smoky notes coming from new European Oak. Soft on the nose, complex and lively on the tongue, with a peppery finish.
Kit components:
Makar Oak Aged Gin 70cl
4 X Folkington's Cloudy Apple Juice
1 X Cocktail Recipe Card
DISCOVER MAKAR OAK & CLOUDY APPLE HERE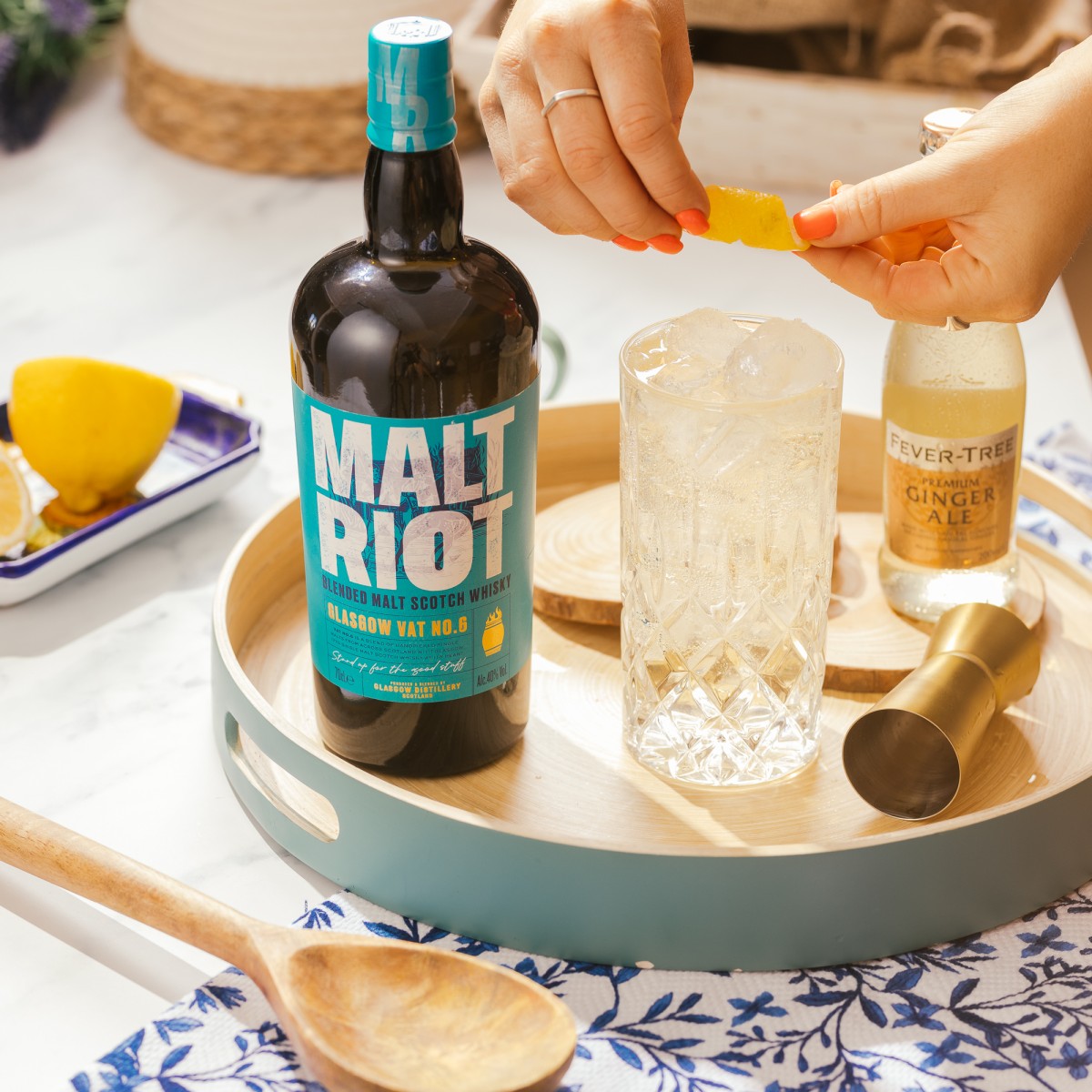 Malt Riot Ginger Riot: A simple blended whisky highball that pairs the spicy notes of blended whisky with the spicy-sweet effervescence of ginger ale. The ingredients were made for each other and the result is a drink that's refreshing and thirst-quenching with just the right amount of bite.
Malt Riot is a delicious blend of single malt scotch whiskies from across Scotland, with Glasgow 1770 Single Malt Scotch Whisky at its heart. A light and smooth whisky with notes of sweet vanilla, toffee apples and dried spice with a long, warming finish.
Kit components:

Malt Riot Blended Malt Scotch Whisky
4 x Fever Tree Ginger Ale
1 X Cocktail Card

DISCOVER MALT RIOT GINGER RIOT HERE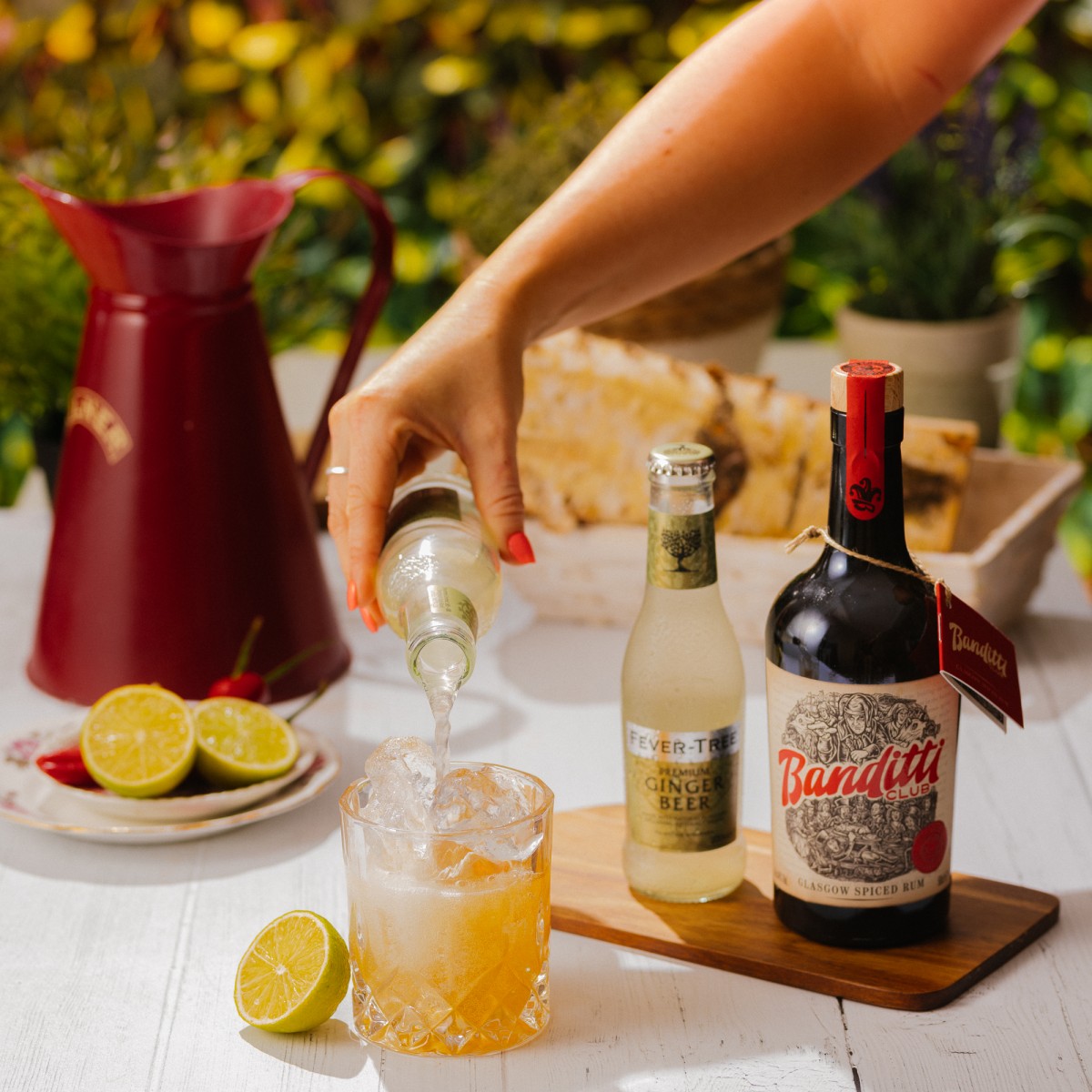 Banditti Club Glasgow Mule: An undeniably complex cocktail that only has two ingredients, but packs a punch on the palate. This Glasgow Mule is spicy on the tongue and will warm the cockles of your heart.
Banditti Club Rum is made using rum distilled from freshly pressed sugar cane juice on the Island of Madeira. Aged for up to 12 months in oak casks, the rum is spiced with a selection of fresh tropical fruit and exotic spices, including pineapple, orange, cacao and allspice.
Kit Components:
Banditti Club Spiced Rum - 50cl
4 x Fever-Tree Ginger Beer
Cocktail Card
DISCOVER BANDITTI CLUB GLASGOW MULE HERE
G52 Fresh Citrus & Tonic is bursting with the flavour of various citrus fruits resulting in a brilliantly fresh and vibrant cocktail with a kick of sparkling tonic fizz.
G52 Vodka - Fresh Citrus - is distilled with zesty botanicals including fresh grapefruit, lemon, limes, and oranges as well as rosehip and spicy fresh ginger.
Kit Components:
G52 Botanical Vodka - Fresh Citrus - 70cl
4 x Fever-Tree Tonic Water
1 X Cocktail Card
DISCOVER G52 FRESH CITRUS & TONIC HERE
The Makar Old Tom French 75 is a classic, cool and sophisticated cocktail. An all-time classic, a fixture in cocktail bars and also a fan-favourite during brunch.
Makar Old Tom Gin infuses orange peel, almonds and a small injection of honey into its distilling process. The result is an exceptionally well-balanced, complex and rewarding Old Tom Gin, sweeter on the palate than the popular London dry style.
Kit Components:
Makar Old Tom Gin - 70CL
Bottega Prosecco 200ml
Monin Sugar Syrup 250ml
1 X Cocktail Card