Glasgow Distillery
Malt Riot Blended Malt Scotch Whisky Enters Tesco Stores Across Scotland
Monday 06th September 2021
We're pleased to announce that our exciting Blended Malt Scotch Whisky, Malt Riot, is now available in select Tesco stores across Scotland.
Malt Riot tells the story of the 1725 protests which originated in Glasgow and spread across Scotland. The protests, which were an objection against the introduction of a tax on malted barley, were a seminal moment in the history of Scotch whisky, resulting in the islands of Islay and part of Jura coming under the stewardship of local MP and former tax collector, Daniel Campbell. He encouraged local farmers to plant surplus barley which led to the start of legal whisky production in the years to come, so inspiring others across Scotland to follow suit and thus the whisky boom truly began with earnest.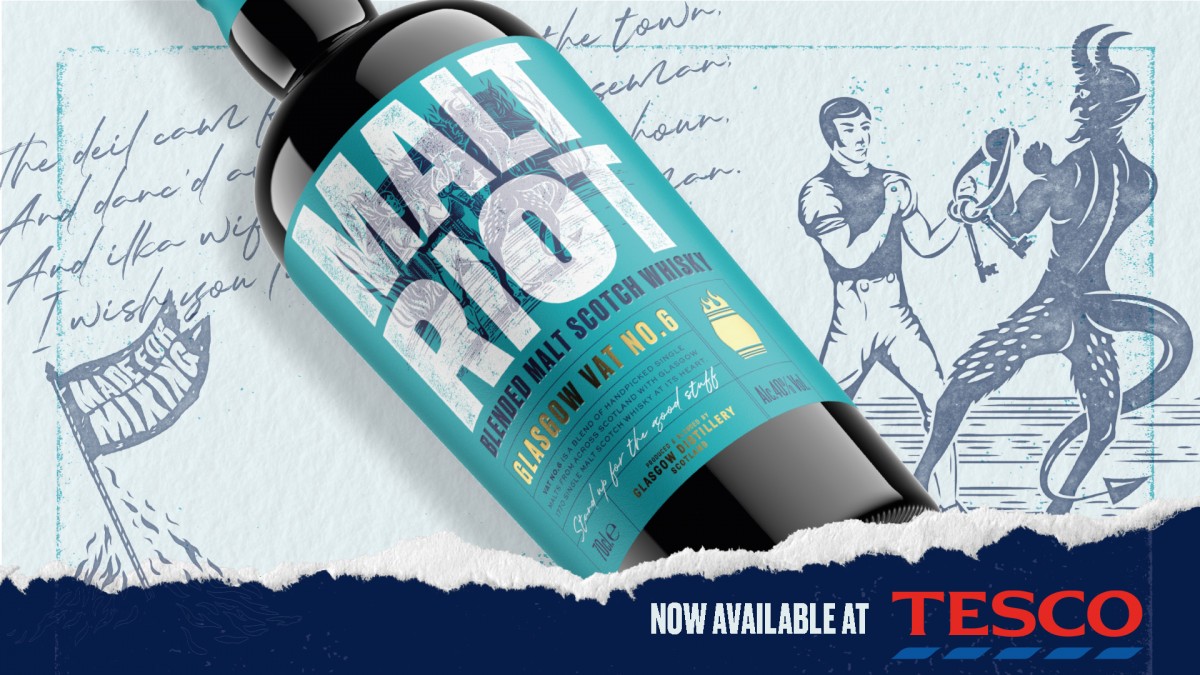 Malt Riot Whisky is a blended malt that comprises of multiple single malt scotch whiskies from across Scotland combined together to result in the final blend – what we call our 'Vat No.6'.
Included in Vat No.6 is a large proportion of our own single malt scotch whisky distilled at The Glasgow Distillery which would otherwise comprise part of our Glasgow 1770 Single Malt Scotch Whisky releases.
Tesco Buyer, Jill Sutherland, commented on the recent Scotland listing: "Malt Riot's taste & engaging story make it an exciting addition to our Scottish Whisky range."
Liam Hughes, CEO and Co-founder of The Glasgow Distillery, said:
"We're delighted to be able to add Malt Riot to the premium spirits selection at Tesco stores in Scotland. Since launching the whisky in 2019 we've had such great feedback on the look and feel of the product as well as the whisky itself.
"In 2020, Malt Riot picked up the Gold Medal at the Scottish Whisky Awards in the Blended Malt Whisky category and since then we've had more and more interest in the brand. This most recent listing with Tesco is a great step forward for us and we are looking forward to seeing the reaction of Tesco shoppers across Scotland!"
Malt Riot is made with mixing in mind and each bottle comes with a neck tag which tells you about the story behind the name and two perfectly paired whisky cocktails. The Ginger Riot is a long and refreshing serve of Malt Riot with ginger ale over ice and the Glasgow Sour is our spin on a traditional whisky sour cocktail: shaking together Malt Riot, lemon juice and bitters.
Pick up a bottle today at your nearest Tesco* or get it delivered from our online shop.
*Malt Riot is now stocked at select Tesco stores in Scotland.