Makar Gin
Makar Gin Partners with Local Glasgow Chocolatier
Monday 30th October 2017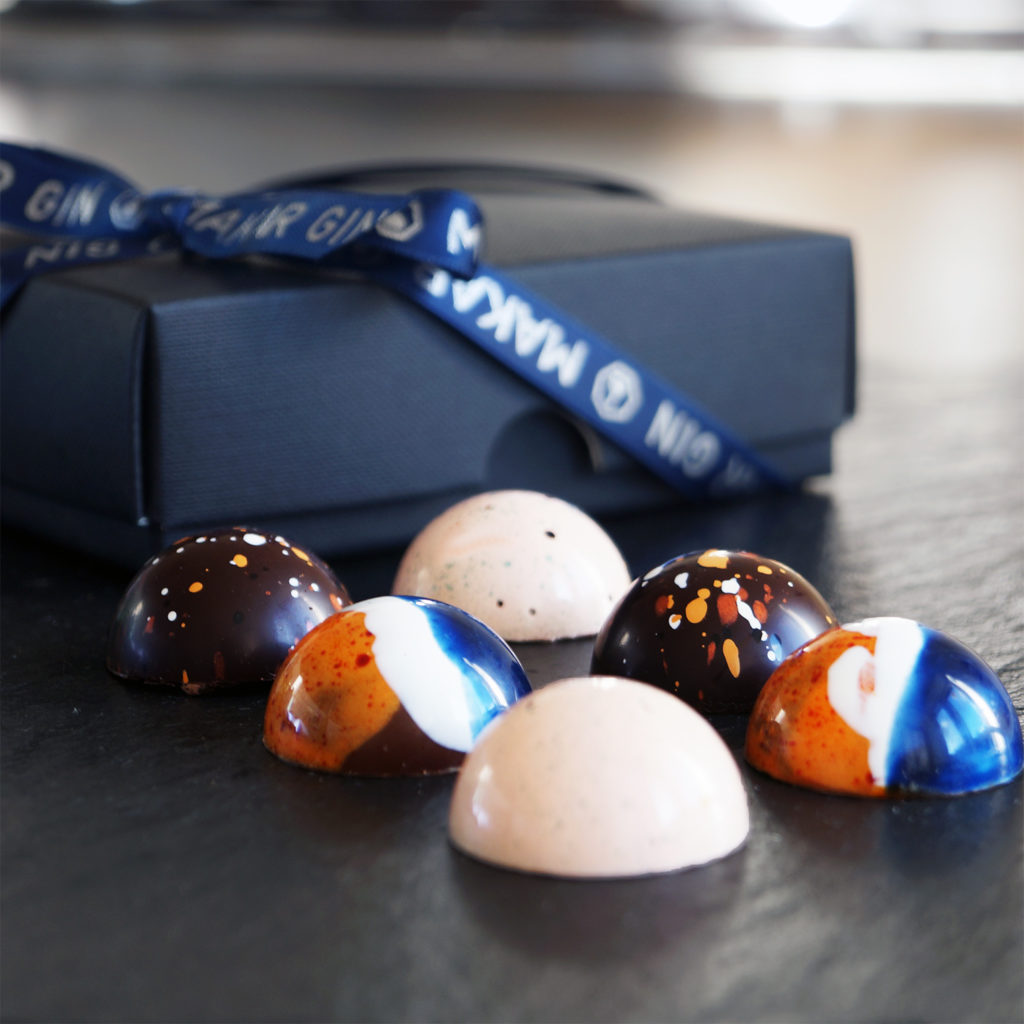 In a city first, we have teamed up local Glaswegian chocolatier, Sugarsnap Chocolates, to produce a stunning range of MAKAR infused chocolates. These chocolates will be sold over the festive period at the various Christmas and winter markets that we'll be exhibiting at, including our stalls at George Square Christmas Market and the St Enoch Centre Christmas Market, which starts on the 5th of November.
The chocolates, which come in boxes of six, contain three varieties; a dark, a milk and a white chocolate which are each paired with different varieties of MAKAR Gin and supporting botanical combinations:
Orange, chilli and Makar Original Gin with 40% Single Origin Ghanaian Cacao
Black Pepper and Makar Oak Aged Gin Caramel with 70% Single Origin Cuban Cacao
Peach, Elderflower and Makar Old Tom Gin with Zephyr White Chocolate.
Ian McDougall, co-founder of The Glasgow Distillery commented:
"We were delighted to team up with Sugarsnap Chocolates, another growing Glaswegian business which values craft, quality and provenance above all. This collaboration is a testament to the quality and craftsmanship which exists between small business in Scotland and Glasgow. These chocolates look fantastic and taste even better, a perfect gift for any gin or chocolate lover."
Annette Smith, founder of Sugarsnap Chocolates:
"High quality and local ingredients are important to me, so when the opportunity came to work with Makar Gin I didn't have to think twice. Each gin has beautiful and distinct tasting notes, and pairing each one with a single origin chocolate and Makar infused centre that compliments the botanicals has resulted in a perfect partnership. It means a lot to me that a large and successful Glaswegian business recognises my small business and I'd like to thank The Glasgow Distillery and let them know I appreciate all they have done."
Pick up a box at our stalls over the winter period, find out where we'll be next on our Facebook page.