1770 Whisky
Introducing Glasgow 1770 Red Wine & Ruby Port Cask Finish
Tuesday 28th February 2023
Glasgow 1770 Red Wine & Ruby Port Cask Finish

Showcasing our commitment to flavour experimentation, we're delighted to introduce our latest release, a new limited edition expression that marries together two types of whisky production styles with two different cask finishes.
Glasgow 1770 Single Malt Scotch Whisky Small Batch Series Red Wine & Ruby Port Cask Finish is made up of three peated whisky casks that have been matured in virgin oak with a finish in Bordeaux red wine casks and three triple distilled whisky casks that spent time in first fill ex-bourbon before a finish in ruby port casks. All were laid down in early 2018 and bottled in late 2022.
This is the first time that we have combined different spirit production styles with different cask finishes, making Red Wine & Ruby Port Cask Finish our most experimental whisky release yet.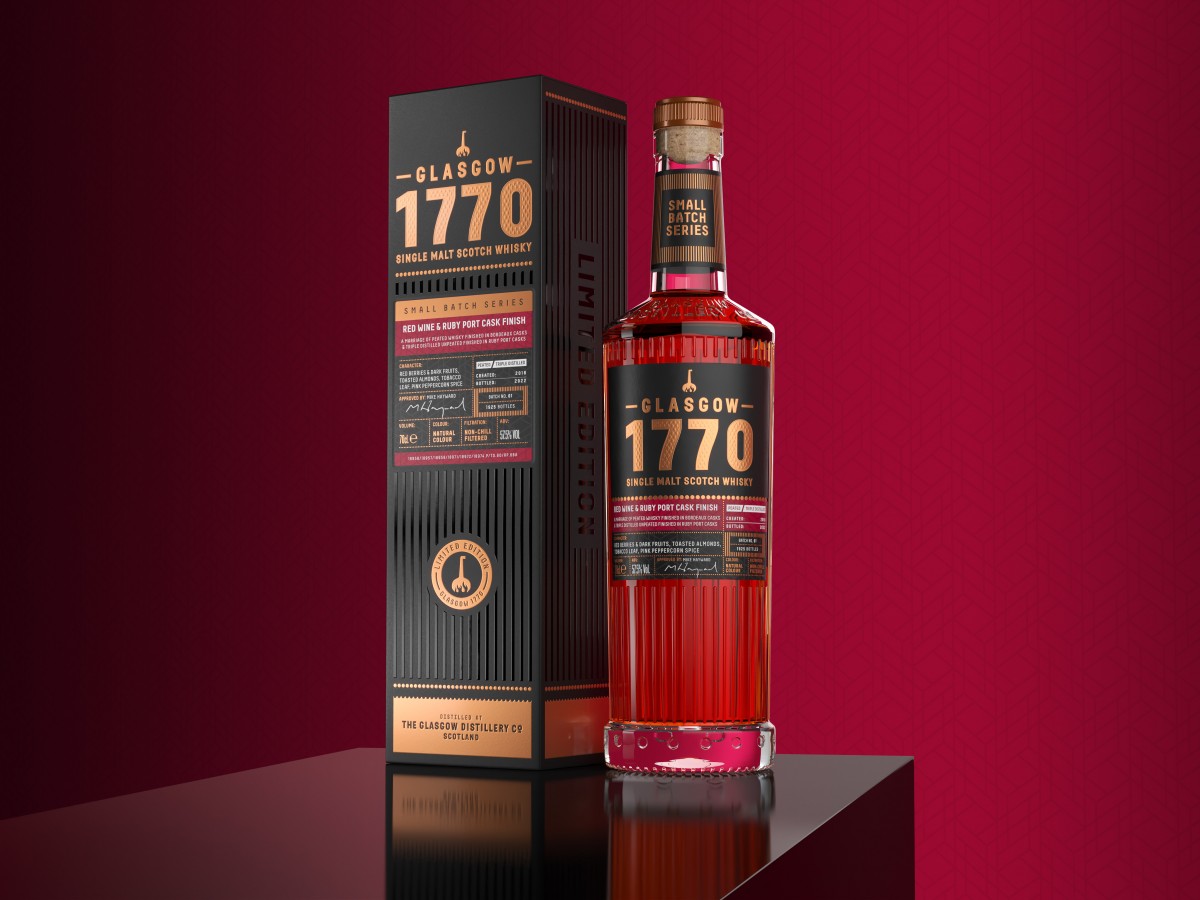 Glasgow 1770 Red Wine & Ruby Port Cask Finish
70cl | 57.5% | £59 | 1925 Bottles
Married together in equal parts, our smoky peated and our smooth triple distilled whisky finished in Bordeaux red wine casks and ruby port casks respectively. The peated whisky element offers a crisp, fruity and smoky experience while the triple distilled element contributes a lighter and smoother style with notes of summer berries and bright spice. Together, they harmoniously combine and balance beautifully, jointly offering notes of red berries and dark fruits on the nose, toasted almonds and tobacco on the palate and a long and spicy finish with hints of pink peppercorns.
Tasting notes:
Nose
Notes of red berries and dark fruits
Palate
Toasted almonds, and rich tobacco leaf
Finish
Long and spicy with hints of pink peppercorns
"The foundation of our Small Batch Series has always been about pushing the boundaries of flavour in whisky making and our Glasgow 1770 Red Wine and Ruby Port Cask Finish takes this to the next level, marking our first foray into combining two distinct spirit styles with two distinct maturation processes."
- Mike Hayward, Founder.
This new release is now available to purchase directly from our website for UK customers for £59. It will soon be available in Germany, Taiwan, Belgium, The Netherlands, Denmark, Switzerland and Italy. If you would like to know more about stocking our limited edition release or where to purchase them please contact us.
Purchase direct from the distillery and earn loyalty points

Stockists - UK
By the Bottle
Stevie's Drams - Loch Lomond Shores, G83 3 QL
The Good Spirits Co. - Bath Street, Glasgow, G2 1HW
Robert Graham 1874 - West George Street, Glasgow, G2 1QX
Robbie's Whisky Merchants - Ayr, KA7 1BG
The Whisky Shop - Buchanan Galleries, Glasgow, G1 2GF
Spirit of Alba - Kirkintilloch, G66 1JH
Royal Mile Whiskies - Edinburgh, EH1 1PW
By the Dram
The Bon Accord - Glasgow, G3 7DA
The Pot Still - Glasgow, G2 2TH
The Piper Whisky Bar - Glasgow G1 1HL