1770 Whisky
Glasgow Distillery: Letter From The Founders (2020)
Tuesday 22nd December 2020
Dear Friends of Glasgow Distillery,
It has become a recent tradition for myself, Mike Hayward and Ian McDougall, to write a letter at the end of each year, reflecting on some of the key highlights for us as a distillery, whether that's new product launches, distributing to new export markets, recent investment, new team members and so on.
As 2020 draws to a close, it's fair to say that we're not quite sure where to begin with this letter.
2020 has been an undeniably difficult year for so many. Covid-19 has had a lasting impact and the last twelve months of business at The Glasgow Distillery Company have been far from normal as we, along with all other businesses, have had to operate throughout this global pandemic.
The outbreak of Coronavirus and the subsequent announcement of a nationwide lockdown at the beginning of March meant that we had to seriously re-think some of our business plans and re-strategise on many different occasions, whilst ensuring we were fully complying with the advice from the Scottish government at all times.
Although it will no doubt be quite some time before some normality sets back in, the announcement of a tried and tested vaccine means that we can, at the very least, move forward into 2021 with a glimmer of hope.
Despite the difficulties we have faced in 2020, some of the key highlight for us as a distillery have been the production and distribution of hand sanitiser to key workers, securing new significant investment, the launch of six new products, investing in a new state-of-the-art tasting room and, perhaps the highlight of the Glasgow Distillery journey since the very beginning (second only to the launch of our inaugural whisky in 2018), claiming the title of 'Scottish Whisky Distillery of The Year 2020' at this year's Scottish Whisky Awards.
New Investment
This year, we managed to secure a very timely and significant investment in the form of a £5.5 million asset lending facility from Barclays Bank.
This investment will not only help with our future international expansion plans, but it allowed us to immediately increase our virtual and digital capabilities within the distillery with the addition of a new tasting room complete with state-of-the-art audio visual equipment; ensuring our sales team could maintain contact with key international distributors and we could launch virtual tasting opportunities for those sitting in their own homes, including weekly virtual whisky tastings and Christmas cocktail parties.
Hand Sanitiser Production
In March, like many of our distilling contemporaries across the country, we were looking to help support our local communities in any way we could as the devastating impact of COVID was tangible and getting worse by the day. The best way we could help right away was to add the production of hand sanitiser to our production schedule.
In one day alone, over 20 care homes across Glasgow and the West of Scotland got in touch with me to ask if we were going to be producing hand sanitiser, showing just how serious the problem had become. We had already decided to help but the deluge of calls and emails highlighted what a desperate time it was. Myself and all of our Glasgow Distillery staff were keen to help in any way that we could, with many gaining 'Key Worker' status as a result.
Over the course of April, May and beyond, we produced 11,000 litres of hand sanitiser following a set of specific instructions from the World Health Organisation and distributed these to more than 300 organisations in our local and surrounding areas. More than 5000 litres were donated free of charge, with other organisations just covering the cost of production.
New Product Launches
We are one of a handful of new Scottish Whisky distilleries in the country and as such, our focus over the last few years has been firmly placed on product launches across five premium spirit categories: Single Malt, Blended Malt, Gin, Rum and Vodka. Perhaps surprisingly, this year we did not slow down on the product launch front, despite the circumstances.
This year we launched our G52 Botanical Vodka Range, which consists of a Rich Coffee and a Fresh Citrus expression; introduced our first triple distilled single malt with Glasgow 1770 Triple Distilled Release number one; our second peated single malt with Glasgow 1770 Peated Rich & Smoky; and unveiled our new blended malt whisky, Malt Riot.
Creative 'At Home' offerings
Alongside product launches, our marketing team were tasked with coming up with some creative ways to reach people from the comfort of their own homes, whilst also preparing for what was likely to become the busiest festive season, we (and many others!) have ever had for online sales.
We were delighted to launch our series of 'Cocktails@Home' at the beginning of the lockdown period for those who wanted to craft cocktails from the comfort of their own homes, without having to go out to the supermarket to buy extra ingredients.
Christmas nights out were also a non-starter this year, so we decided to combine four Cocktails@Home kits to create the ultimate 'Party Pack', which employers were then able to buy for their employees, with the free addition of a virtual Christmas party hosted by members of our team, including an in-depth cocktail masterclass and fun festive games.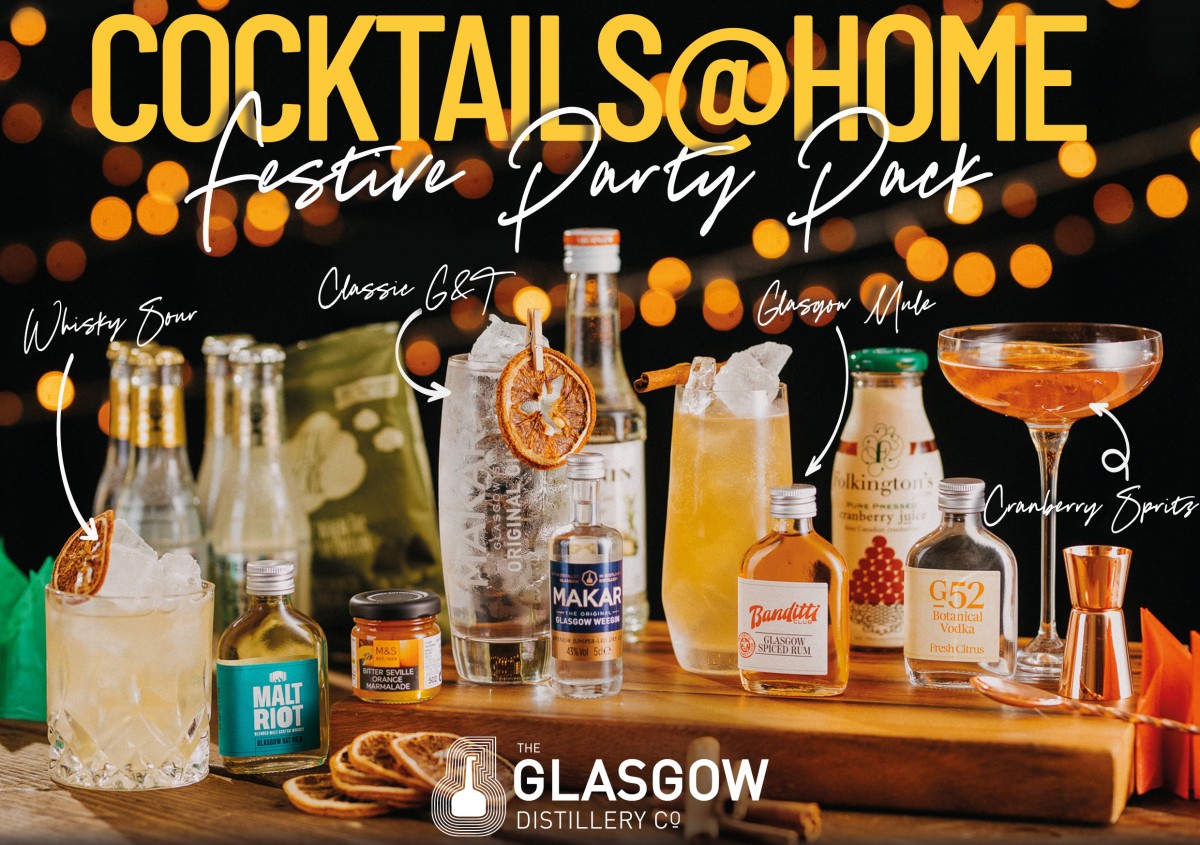 New Gifting Series
With Christmas fast approaching in the months to follow, the team put their minds to some creative and gift ideas to surprise friends and family with this festive season.
In November we introduced our new Glasgow 1770 Single Malt gifting series, consisting of a Glasgow 1770 Miniature Gift Selection Pack containing each of our three award-winning single malts and festive single malt Christmas crackers - the perfect addition to any Christmas table this year.

We also introduced a free bottle personalisation service, offering all whisky lovers out there the opportunity to own a bottle of Glasgow 1770 Single Malt which will forever be unique to themselves or unique to the whisky-loving friend they are hoping to surprise this year.
Buchanan Galleries Shop
In the run up to Christmas we also opened our Glasgow Distillery Pop-Up Shop within Buchanan Galleries Shopping Centre in Glasgow's city centre. We understood that whilst some people are more likely to shop online this Christmas, some still like to visit a physical store. For this reason, we were happy to be able to offer both options to our Glasgow based customers. It has been a pleasure meeting so many of you at our shop and talking to you about our spirits.

Scottish Whisky Distillery of The Year
Without a doubt, a key highlight for me this year was picking up the title of 'Scottish Whisky Distillery of the Year' at the 2020 Scottish Whisky Awards.
We really are over the moon to have won this accolade, especially as we were up against some industry stalwarts in Glenallachie and Ardbeg Distillery. Alongside the 'Best Distillery' award, we also won two gold medals in the taste categories; one for our Glasgow 1770 Peated and the other for our new blended malt; Malt Riot.
We are very humbled by our Gold medal win for Glasgow 1770 Peated, particularly after hearing that it won the toughest category of the entire competition, with an astonishing thirty-one single malts competing for the same spot!
The quality of talent, not just from the winners, but from those who were nominated as finalists clearly demonstrates the strength of the Scotch Whisky industry today and we are so proud to play our part in something that is so loved and respected around the globe, not just here in Scotland.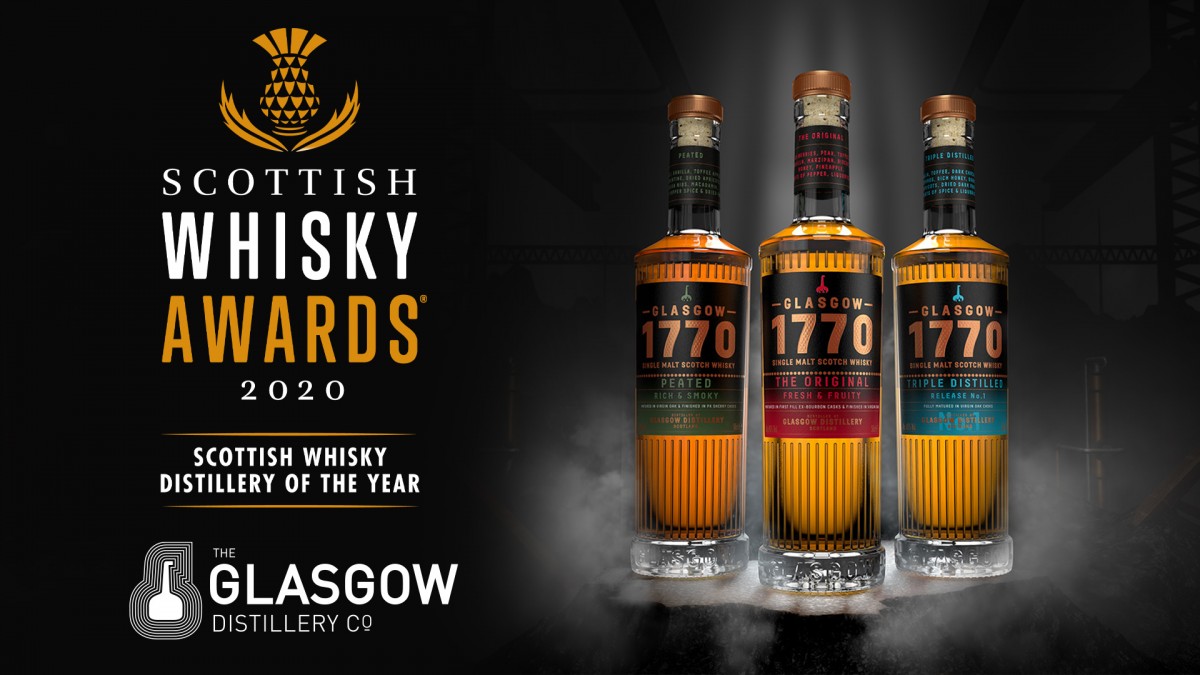 A Final Thank You
Mike and Ian and I would like to take this opportunity to thank every single person that has supported us throughout such a difficult year.
Thank you to our suppliers, partners and distributors, but most importantly thank you to our fantastic customers whether you're local to Glasgow, the UK or one of the many other countries across the world who have encouraged and supported us along the way.
We would also like to take this time to sincerely thank the entire Glasgow Distillery team.
The constant vigilance of our production team in particular has truly made us proud. They had the difficult task of balancing the production of hand sanitiser and the continued production of our single malt alongside the additional hurdles of PPE and social distancing within the distillery.
We are equally blown away by our marketing, sales, finance and logistics teams for how quickly they bounced into action, responding to the many challenges that arose as a result of the pandemic with smart and incredibly creative solutions.
Even with half of our staff working from home thought this year, every member of the Glasgow Distillery team has managed to keep their spirits high and communication flowing, and it's been an absolute pleasure to witness.
To you all, we raise a glass (of Glasgow 1770, of course!) and wish you a very Happy New Year.
Slàinte Mhath!
Liam Hughes, Mike Hayward and Ian McDougall,
The Glasgow Distillery Company.