1770 Whisky
Glasgow 1770 Single Malt Whisky Takes Off: Soaring into Dubai Duty Free
Monday 09th March 2020
We are delighted to reveal that Glasgow 1770 Single Malt Scotch Whisky is now available to purchase from Dubai Duty Free, one of the biggest travel retail operators in the world.
Millions of people travel through Dubai International Airport each year, so we're undeniably excited to share our award-winning Glasgow 1770 Single Malt Scotch Whisky on such a global scale, with both our Original and Peated expressions available to purchase.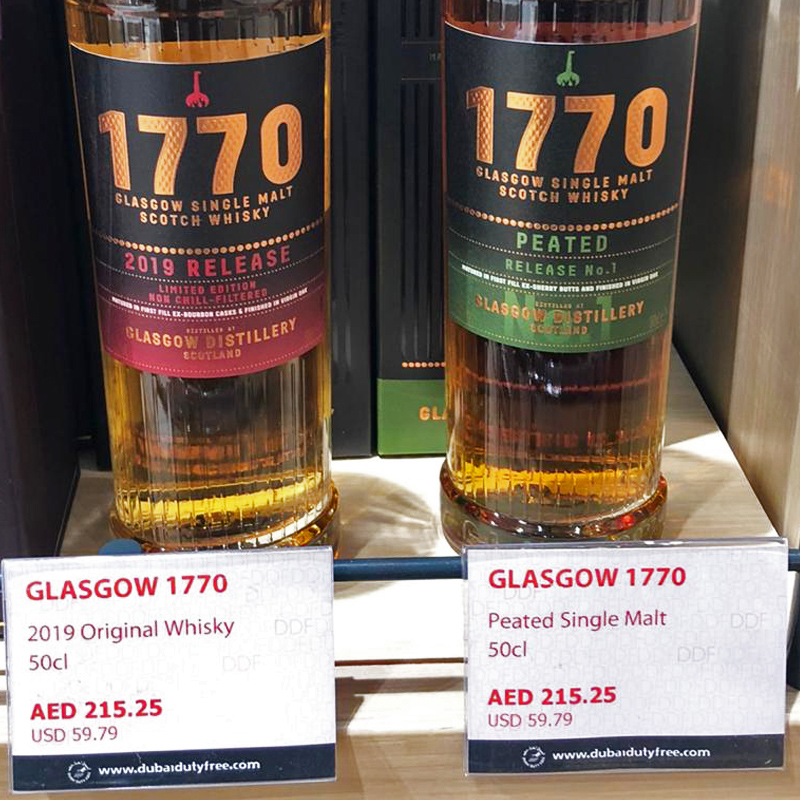 Liam Hughes, CEO and Co-Founder of Glasgow Distillery said:
"This is fantastic news for us, especially bearing in mind that Glasgow 1770 Single Malt is relatively new to the world of whisky. With that in mind, it really is an honour to be listed alongside some of the world's greatest spirits in the world's busiest airport for international passenger traffic.
"At Glasgow Distillery, we aim to be a global business. Over the last year, we've built some fantastic relationships with our European distributors in France, Germany, Holland and Scandinavia. It is a thrill to see customers in so many countries around the world enjoy our range of spirits.
"More recently, we have struck distribution deals in various countries in the Far East - such as China and Taiwan - and we are currently in talks with the USA too. Dubai Duty Free welcomes people from across the globe, which is why we are very excited to have Glasgow 1770 Single Malt on offer at such a key destination for us."
Since the beginning of 2019, Glasgow 1770 has performed successfully on the international stage, sharing gold medal status with some of the world's greatest spirits across multiple competitions, including: The San Francisco World Sprits Competition, The International Spirits Challenge, The Scotch Whisky Masters, The International Whisky Competition, the China Wine and Spirits Awards and the Scottish Whisky Awards.