1770 Whisky
Glasgow 1770 Peated Wins Gold at 2021 Scottish Whisky Awards
Wednesday 01st December 2021
The Glasgow Distillery is in high spirits after picking up a Gold Medal at the 2021 Scottish Whisky Awards for the Peated expression of Glasgow 1770 Single Malt Scotch Whisky.
Glasgow 1770 Peated came top in the category 'Single Malt No Age Statement Peated', whilst Glasgow 1770 The Original picked up a bronze medal in the 'Single Malt No Age Statement' category.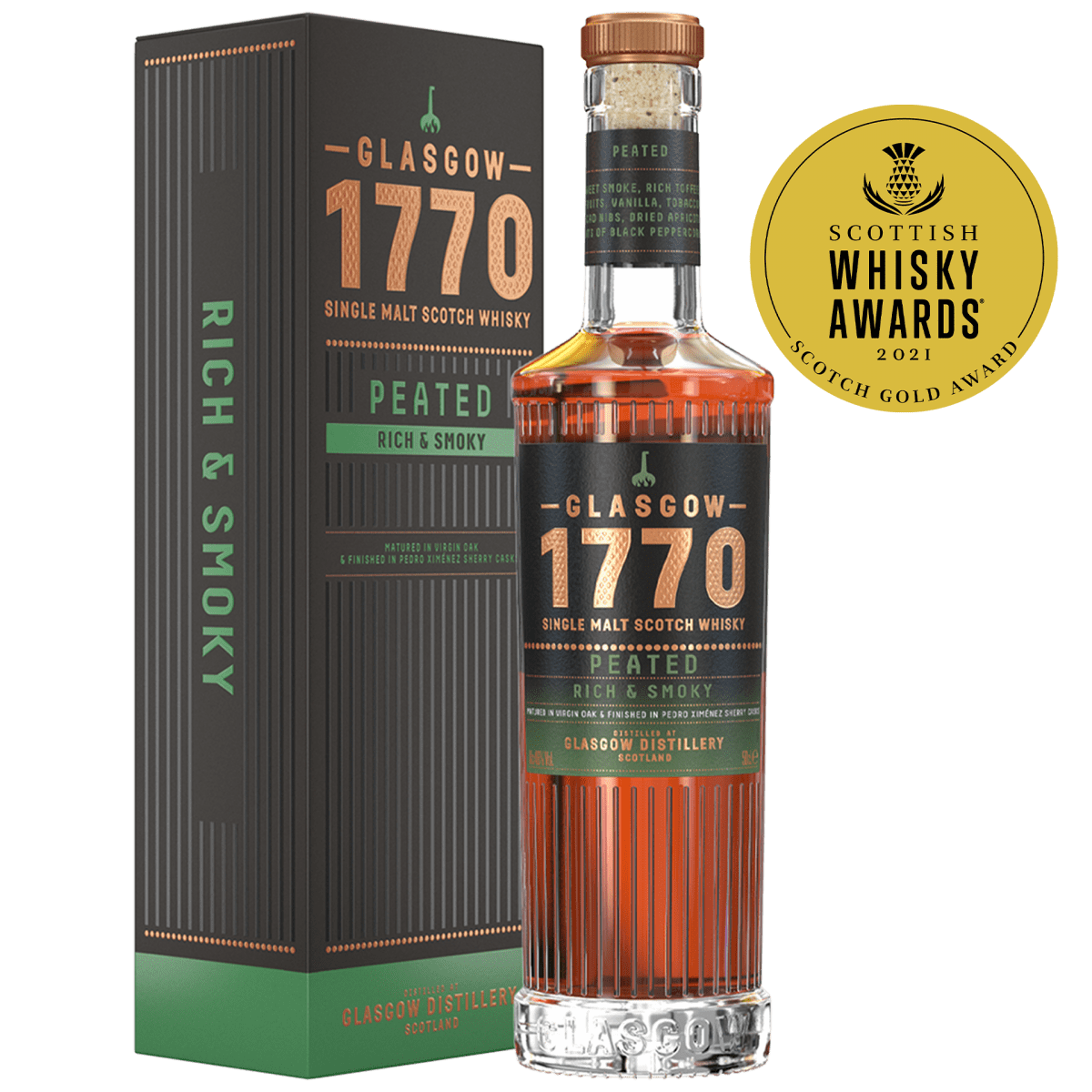 The Glasgow Distillery was nominated once again for the ultimate award of 'Scottish Whisky Distillery of the Year' after winning the title in 2020, and Malt Riot Blended Malt Scotch Whisky was nominated in the Blended Malt category.
Mike Hayward, Co-founder, commenting on the Gold Medal Award for Glasgow 1770 Peated:
"To be nominated alongside whiskies from the likes of Ardbeg, Bunnahabhain and Glen Scotia is a great honour, to win the category outright is really quite remarkable and a great testament to the hard work, the quality and attention to detail that everyone at the distillery puts into their work every day.
"To be nominated once again for Scottish Whisky Distillery of the Year is also a great privilege. Congratulations to everyone who was a finalist for an award this year."
Glasgow 1770 Peated is a rich and smoky single malt whisky that has been matured in virgin oak and finished in Pedro Ximénez sherry casks. A delectable nose of sweet smoke and barbecue sauce leads into a well-rounded mouthfeel with notes of chocolate orange, rich toffee and salted caramel.
Glasgow 1770 Peated is available for free label personalisation online or at The Glasgow Distillery shop in Glasgow Buchanan Galleries shopping centre, you can print a bespoke message on both the bottle label and gift carton label to make the ultimate whisky gift.