1770 Whisky
Glasgow 1770 Peated Named 'Lowland's Best Single Malt' For Third Year In A Row
Monday 04th July 2022
The team at The Glasgow Distillery are thrilled to receive the news that Glasgow 1770 Peated has been awarded the title of 'Best Lowland Single Malt Scotch Whisky' and been awarded the highest prize of a Gold Medal, for the third year in a row, at the International Whisky Competition.
It is the fourth year running that one of our whiskies has been awarded the title of Best Lowland Single Malt, with Glasgow 1770 The Original winning the award in 2019 and Glasgow 1770 Peated holding the title each year since.
The International Whisky Competition is one of the world's most-followed whisky competitions which ranks the best whiskies of the world into categories after a blind tasting. With only three medals per category being available, the award scheme has become known as "The Olympics of whisky competitions".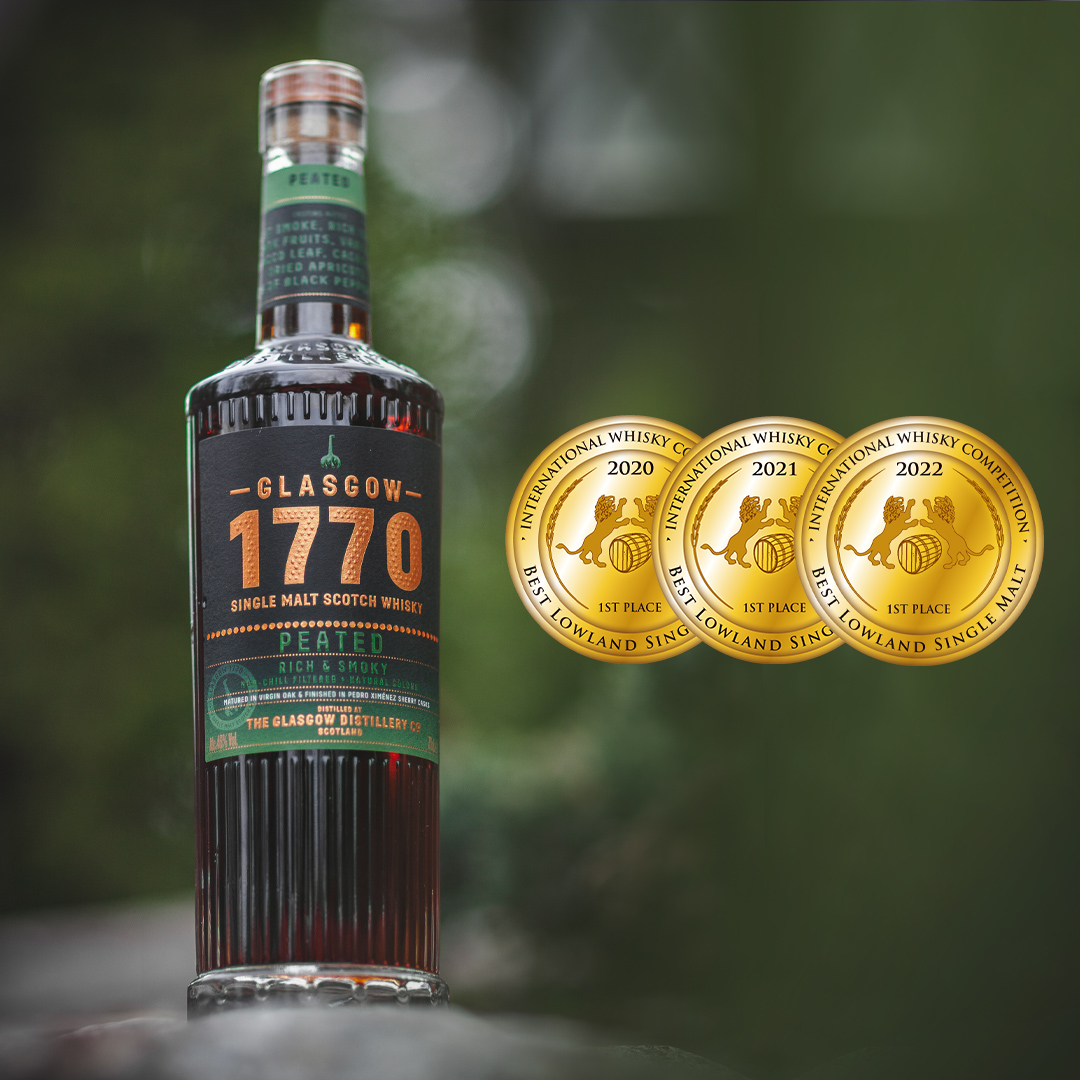 Glasgow 1770 Peated is our rich and smoky expression and forms one-third of our single malt 'Signature Range'. Using Scottish malted barley that has been Peated to 50ppm, matured in virgin oak and finished in Pedro Ximénez Sherry casks before being bottled at 46% without chill-filtration and at natural colour, Glasgow 1770 Peated offers wonderfully floral and welcoming sweet BBQ smoke on the nose with floral undertones throughout. Notes of rich toffee and dark fruits combine on the palate with hints of tobacco leaf and dried apricots before a wonderfully rich and long finish with a hint of spice.
A Gold at the IWC is the latest in a long line of awards for Glasgow 1770 Peated, which was named 'Best Non Age Statement Single Malt' at the 2021 Scottish Whisky Awards, as well as a Gold Medal at the San Francisco World Spirits Competition and the Scotch Whisky Masters in 2021.