1770 Whisky
Glasgow 1770 wins top prize, twice, at prestigious whisky awards
Wednesday 01st June 2022
The results of the 2022 Scotch Whisky Masters, run by Spirits Business Magazine, have been announced and Glasgow 1770 has picked up two 'Master' awards.
The Master award is the top prize in the competition, bestowed upon whiskies that have reached the highest levels of quality and sophistication and have been ranked as the best whisky in their category.
Out of more than 150 whiskies sampled only 14 were awarded the top prize of a taste 'Master', with two Glasgow 1770 Single Malt expressions amongst that top fourteen.
Whiskies are sampled blind and scored for excellence by a panel of expert judges who are drawn from among journalists, retail buyers, bartenders and educators.
Glasgow 1770 Triple Distilled, one-third of our Signature Range of single malts, was awarded a Master award in the Lowland Premium category. Triple Distilled is our smooth and vibrant single malt that has been matured in a combination of ex-bourbon casks and virgin oak before bottled at 46% ABV and is available to purchase on our website for £49 per bottle.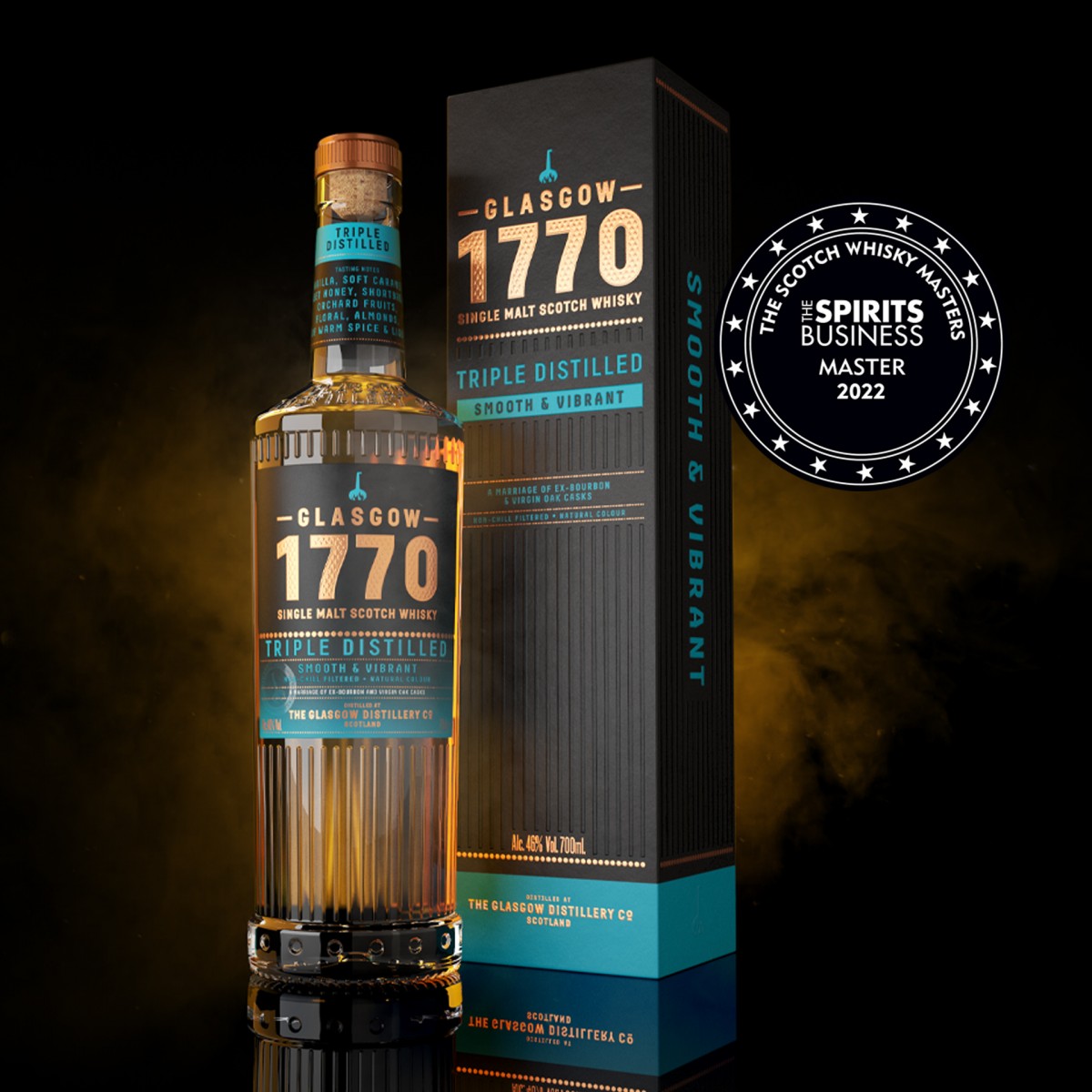 Glasgow 1770 Limited Edition Sauternes Cask Finish was awarded a Master award in the Lowland Super Premium category. Sauternes Cask Finish was a single cask, released in November 2021 as one of three limited-edition releases and is now sold out. A heavily peated single malt, matured in virgin oak casks before a finishing period in a premium French Sauternes cask, this release was bottled at 53.7% ABV with only 486 individually numbered bottles available at £59 per bottle. With notes of sweet BBQ sauce, toffee, salted caramel and a deep earthy finish, this release sold out very quickly and was very much a fan-favourite.
Sign up to our distillery emails to be the first to know about our next batch of Limited-Edition Releases. The form to sign up is found in our website footer.