1770 Whisky
A Trio Of Golds For 1770 Glasgow Single Malt Scotch Whisky
Wednesday 12th June 2019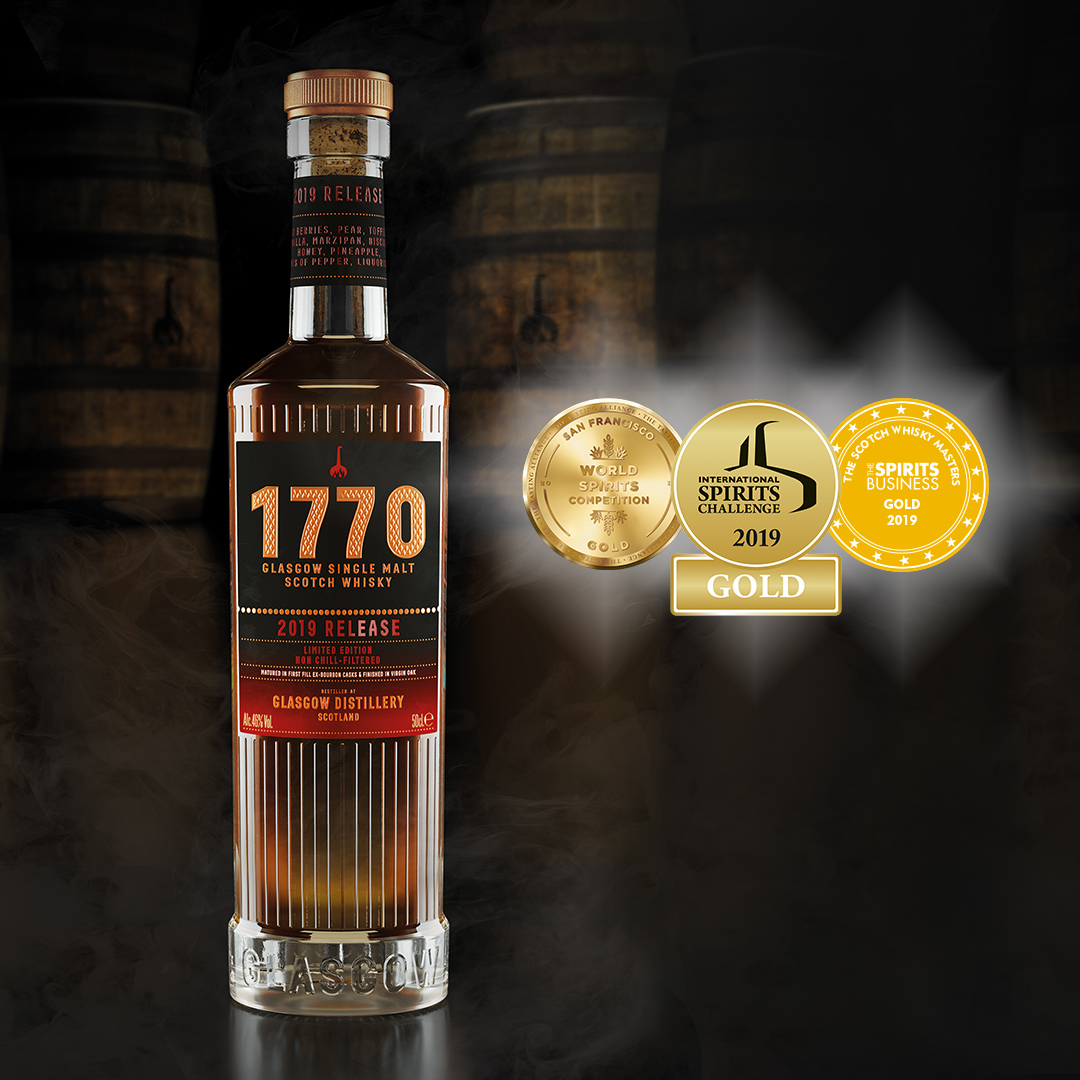 Our debut Whisky, 1770 Glasgow Single Malt Scotch Whisky, has picked up a trio of internationally recognised gold medal awards in the first half of 2019, surpassing a number of well-respected scotch whisky brands and sharing gold medal status with some of the world's greatest spirits.
The recent award success comes on the back of our sold-out First Release and strong sales success for our 2019 expression, both in domestic and export markets, where we have secured new distribution agreements in Hong Kong, Japan, China, Taiwan and Germany.
1770 fought off strong competition in Scotland and abroad to be awarded Gold Medals in three highly respected spirits competitions: The San Francisco World Sprits Competition, The International Spirits Challenge and the Scotch Whisky Masters.
These competitions are amongst some of the most authoritative, respected and influential spirits competitions in the world, with a common purpose and vision of recognising exceptional products in the spirits industry. Each is founded on a rigorous and independent blind tasting judging process judged by some of the world's most highly respected industry experts.
Since launching the sold-out First Release last year, 1770 has gone on to gain much industry praise and positive customer feedback. This has been supported with the signing of multiple international distribution deals and the announcement that the we will once again be sponsoring this year's Glasgow Whisky Festival.
The 2019 Release, on sale earlier this year, was accompanied by the news that our Peated and Triple Distilled expression are scheduled for release in late 2019 and early 2020, respectively.
We are delighted to have picked up a trio of gold medals at these fantastic competitions, especially considering the scrupulous blind assessment from multiple experienced panels of specialist judges. It's an honour to know that 1770 is holding its own when judged alongside critically acclaimed scotch whisky brands.
We're truly passionate about the journey we have been on as a distillery and we're incredibly proudto be re-establishing the metropolitan scotch malt whisky tradition alongside the great whisky regions and bringing Glasgow Malt Whisky back to life. This is about the rising of Glasgow distilling from the ashes and we're proud to be leading the way.
We are absolutely thrilled with the recent results and we are hopeful that it's also a sign of things to come.
1770 Glasgow Single Malt Scotch Whisky – 2019 Release is now available to order here (Price £49)