1770 Whisky
1770 Whiskey Reaches 4 Finals At Inaugural Scottish Whiskey Awards
Monday 01st July 2019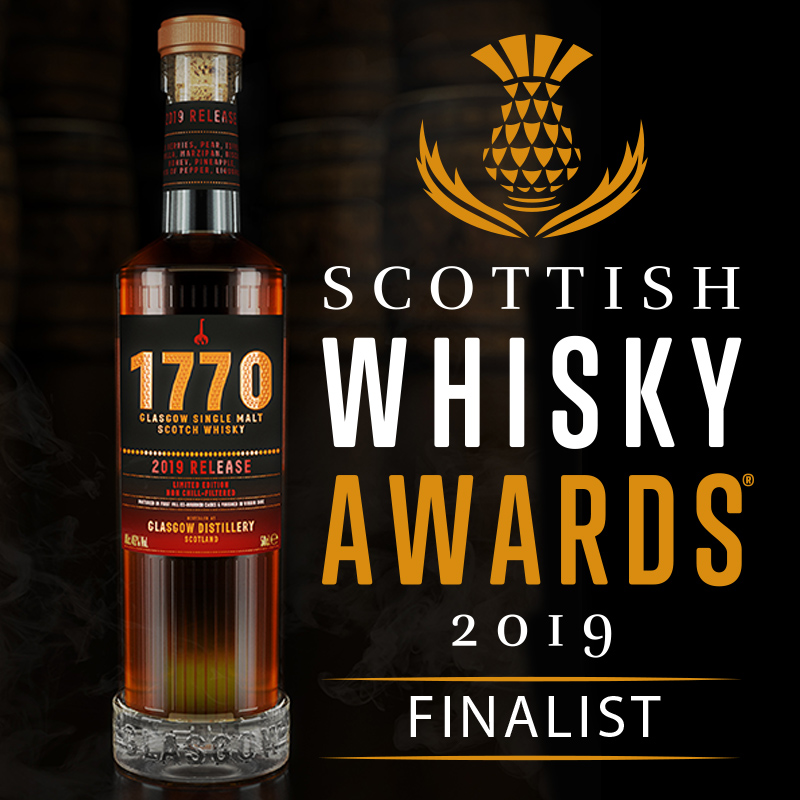 The finalists in the first annual Scottish Whisky Awards have been announced, and we are delighted to reveal that 1770 Glasgow Single Malt Scotch Whisky has reached the final across 4 'Taste' and 'Business Performance' categories.
Whiskies were assessed by a 32-strong judging panel from UK, mainland Europe and Asia, all of whom participated in a blind tasting adjudicated by the international sensory management consultancy, Cara Technology.
With 52 companies progressing to the finalist stage in the new national competition, we are delighted that 1770 has reached the final in the following four categories: 'Newcomer of the Year', 'Product Launch of the Year', 'Excellence in Branding' and the 'Single Malt- No Age Statement' taste category.
Since establishing the distillery, we have invested in the best distilling equipment, sourced the finest ingredients, the finest casks and assembled a team of innovative distillers to ensure the quality of the spirit we produce at Glasgow Distillery is second to none. We are, of course, extremely proud of 1770 Whisky but we are especially delighted that 1770 is holding its own in both our domestic market and on the world stage.
At this year's Scottish Whisky Awards, it's an honour to be up against some of the greatest spirits from the world's most respected scotch whisky brands such as Diageo, Ian Macleod Distillers and Highland Park.
Why not try 1770 for yourself? Buy here.
To see the full list of finalists, click here.