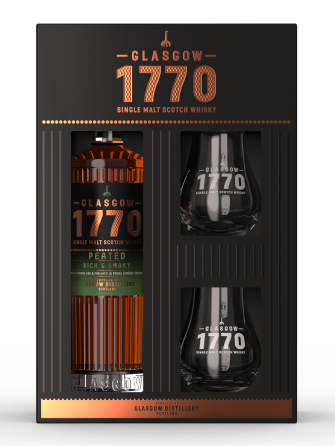 [% bottle_label %]

[% carton_label %]

[% bottle_label_peated %]

[% carton_label_peated %]
Batch 01
Glasgow 1770 Cognac Cask Finish (Triple Distilled 01)
A limited edition release of 1576 bottles at 52% ABV. A marriage of three casks 18/965 - 18/967, our delicate and floral Triple Distilled spirit filled on the 3rd of February 2018 into first fill ex-bourbon casks and laid to rest for two years and ten months before moving in French Cognac puncheon casks on the 17th of December 2020 for two years and six months.
Bottled on the 12th of July 2023, this is a delicate and smooth single malt packed with notes of orchard fruits, rich vanilla and citrus.
This is our first release of a Triple Distilled cognac cask finished single malt. The apple and pear notes that are commonly found in our Signature Range Triple Distilled single malt are accentuated and highlighted with the benefit of the Cognac Cask finish which adds increasing layers of fresh green apples, poached pears and a rich vanilla undertone.
Batch 01
Cognac Cask Finish


Cask Number
18/965, 18/966, 18/967
Spirit Type
Triple Distilled
Cask Size
Barrel > Puncheon

Delicate orchard fruits and rich vanilla
Limited Edition
Nose
On the nose expect notes of bright orchard fruits, fresh green apples and rich poached pear with slight floral undertones.
Palate
The palate is smooth and delicate with notes of rich vanilla ice cream, creamy shortbread and citrus fruits with a gentle fruity undertone throughout.
Finish
The finish is long satisfying with notes of tropical fruits and fresh ginger with hints of toffee and a bright citrus spice.
Delicious 1770 Cocktails
There were no products found matching your search criteria