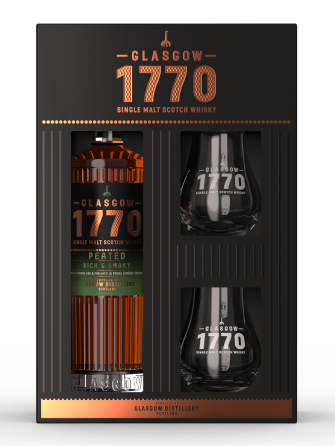 [% bottle_label %]
Glasgow 1770 Limited Edition: Sauternes Cask Finish
Cask No. 18/994 - Sauternes Cask Finish - Peated Single Malt
Only 486 individually numbered bottles, presented in a luxury display carton which is also individually numbered.
Double pot distilled using concerto barley that has been peated to 50PPM, this whisky was distilled on the 8th of May 2018 and initially filled into a fresh virgin oak (heavy char) cask. On the 14th of January 2021, the spirit was filled into a French Sauternes Barrique, before being bottled at 53.7% ABV on the 29th of October 2021.
A perfectly rounded smoky single malt with notes of sweet and smoky BBQ sauce, rich toffee and salted caramel with a very long and deeply earthy finish.
This is a pre-sale. Delivery expected week commencing 6th of December 2021.
Delicious 1770 Cocktails
There were no products found matching your search criteria