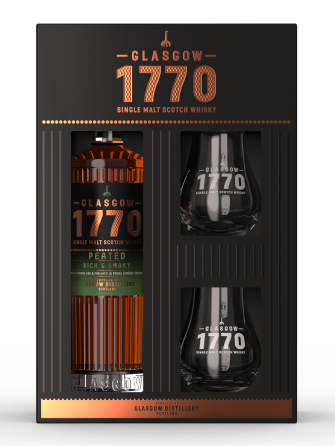 [% bottle_label %]

[% carton_label %]

[% bottle_label_peated %]

[% carton_label_peated %]
Glasgow 1770 Single Malt Crackers
Get into the festive spirit with these Glasgow 1770 Single Malt Scotch Whisky Crackers.
Each cracker contains a 5cl miniature bottle. Choose one of two award-winning single malts: the fresh and fruity Original expression that has been matured in ex-bourbon casks and finished in virgin oak, or the rich and smoky Peated that has been finished in Pedro Ximenez sherry casks.
Glasgow 1770 Whisky crackers make a great stocking filler or are perfect for table settings - the ideal gift for the whisky enthusiast in your life.
Only a limited amount have been produced so don't miss out!
These crackers are sold separately, please add the quantity of each cracker you'd like delivered.
Delicious 1770 Cocktails
There were no products found matching your search criteria