Glasgow Distillery
Introducing the Stories With Spirit gift set
Thursday 12th October 2023
The Glasgow Distillery Stories With Spirit gift set
In celebration of our new distillery identity launched at the start of this year, we're proud to introduce our new Stories With Spirit Gift Set. Showcasing our five core brands found at the heart of our distillery - offering our customers, both returning and new, an insight into the innovation and stories behind each of our award-winning spirits.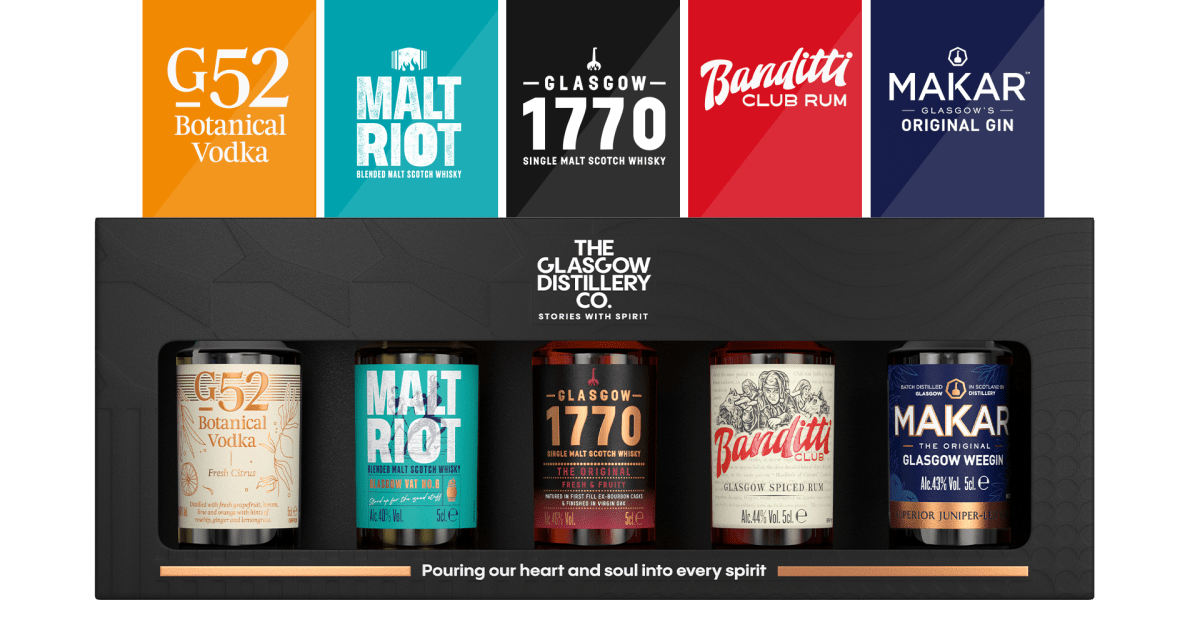 One handy gift pack with our portfolio of premium spirits beautifully decorated with the brand patterns.
Each pack includes:
Glasgow 1770 Single Malt Scotch Whisky
The Original ・ 5cl ・ 46% ABV
The whisky that started it all. Our inaugural expression, The Original is a fresh and fruity single malt.
Malt Riot Blended Malt Scotch Whisky
5cl ・ 40% ABV
Malt Riot Vat No.6 is a blend of handpicked single malt whiskies from across Scotland with our Glasgow 1770 Single Malt at its heart.
G52 Botanical Vodka
Fresh Citrus ・ 5cl ・ 40% ABV
G52 Fresh Citrus is distilled with zesty botanicals including fresh grapefruit, lemon, limes, and oranges as well as rosehip and spicy fresh ginger.
Makar Gin
Original Dry Glasgow Weegin・ 5cl ・ 43% ABV
Makar Original Dry is distilled slowly and with care in our copper pot still, Annie, combining seven carefully selected supporting botanicals with juniper, which lies at our spirit's heart.
Banditti Club Rum
Glasgow Spiced ・ 5cl ・ 44% ABV
Matured and spiced in Glasgow, Banditti Club is made using rum distilled from freshly pressed sugar cane juice on the Island of Madeira.
Did you know that Glasgow 1770 Single Malt Scotch Whisky is named after the date that the original 'Glasgow Distillery Company' was founded? Or that the Banditti Club were a real group of early 19th-century scoundrels that would drink and eat late into the night in Glasgow's public houses, causing all sorts of mischief?
Each of our five spirit styles is based on the core concept of storytelling. Now it's your turn to start sharing stories and making memories with the use of this new gift set.
Purchase online today for £32 per set