Glasgow Distillery
Glasgow Distillery Company Interview: The Rise Of Scottish Gin
Tuesday 17th October 2017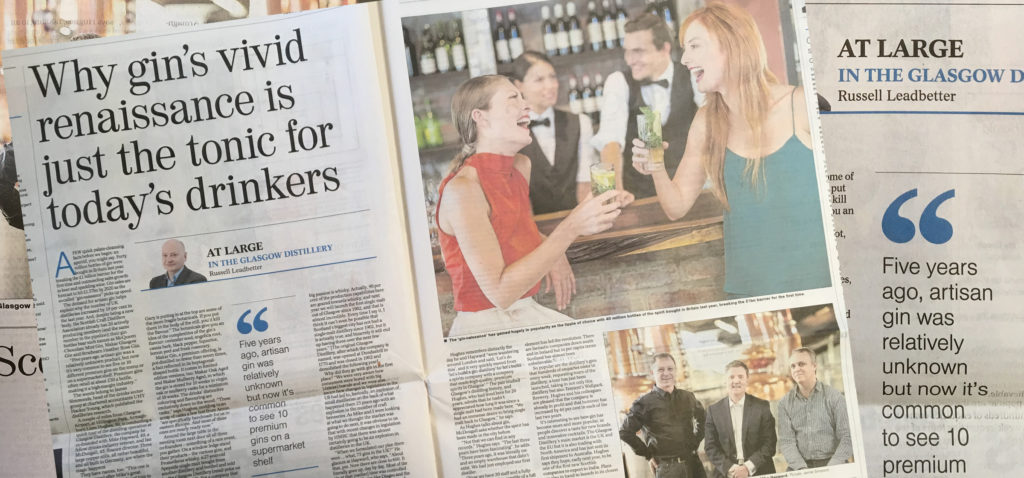 In light of our recent success at the Scottish Gin Awards, we were asked to sit down with the Herald newspaper and give our thoughts and opinions on the recent boom in the Scottish Gin market. Here are some excerpts from that interview, which can be read in full on The Herald website.
The interview started with an introduction to our three copper stills; Annie, Mhairi and Tara:
Three large copper stills, all rather beautiful, and all built in Germany, are where the magic happens.
They have names, too. "This one is Annie, named after Mike's great-grandmother, who introduced him to gin", Hughes is saying. "She was an entrepreneur in Wales and she made her own distinctive gin, experimenting with a range of herbs, spices and fruit, and that was where Mike's lifelong passion for gin came from. Over there is Mhairi, which is named after Ian's daughter, and the furthest one is Tara, which is named after my daughter."
Later in the interview, Liam, our CEO, talks about the recent boom in Scottish Gin and how that inspired him and Mike Hayward to create The Glasgow Distillery:
"When we formulated our plan there were … what, 75 gins in the UK?" He glances at Hayward, who says, "About that, yes. Now there are close to 600. It literally goes up, day by day. Most of the gin at that [earlier] time was controlled by the big distilleries like Diageo and the Ricards of the world." Hendrick's and Sipsmith helped to break the mould. "For me," he adds, "gin is my spirit of choice, which is something that goes back through my family. I'd noticed a lot of excitement around craft distilling now being possible within the UK. This is what you can do. It was a chance to say, this is a fantastic opportunity to create our own brand from Glasgow, and to go on from there."
Hughes remembers distinctly the day he and Hayward "were wandering around London and said, 'Let's do this', and it very quickly moved from 'let's build a gin distillery' to 'let's build a spirits company with a company that made high-quality, premium spirits in Glasgow'." The pair studied Glasgow's distilling history, and Hughes, who had lived here for 20 years, admits that he hadn't appreciated how long it was since a single malt had been made here. "We had an immense desire to bring single malt back to Glasgow," he says.
The interview moves on to the early days of our distillery and the huge growth that has occurred in only three years:
[Liam] "Three years ago, it was literally me and an empty warehouse that didn't exist. We had just employed our first distiller.