Makar Gin
Double Gold For Makar Gin At 2021 Gin Masters
Friday 02nd July 2021
If anyone thinks the popularity of gin is waning, think again. The 2021 edition of The Gin Masters, which is hosted and run by The Spirits Business, saw an ocean of gin entered into this year's competition. Consumers' thirst for the category can be neatly summarised as utterly unquenchable.
The Gin Masters 2021 marked a return to in-person tastings as Covid-19 restrictions were eased in England. The contest was held over two days in a physically distanced format at the Ibis Hotel in London Bridge, with the bottles packed in a way to guarantee anonymity to all entrants.
We are absolutely thrilled to announce that two expressions in our multi award-winning Makar Gin range have picked up a Gold Medal this year:
Glasgow Distillery Company - Makar Mulberry Cask Aged Gin - Gold Medal
Glasgow Distillery Company - Makar Original Dry Gin - Gold Medal
The 'London Dry' category was the biggest flight of the day by quite some margin. The London Dry category produced the largest number of Gold medals ever seen in a Global Spirits Masters flight – 45 Gold Medals – with 51 silver medals being awarded.
David T Smith, spirits writer, consultant and co-founder of the Craft Distilling Expo said:
"Over the past few years we've seen an increase in the quality of London dry gins – not just the occasional one. We've seen a general increase in quality and in the technical proficiency from distillers entering the category as well, which is brilliant. It's great for them, great for us, and great for the industry as whole."
Chris Tanner, bar manager at Milroy's, Peter Downes, distillery partnerships specialist at Craft Gin Club also noted:
"This flight really impressed me. It was so consistent, with really solid entries. I look at those juniper-forward gins, and that's what I'd expect from these gins – and that's what I got."
Our Makar Original Dry Gin is a bold, vibrant, juniper-led gin that derives its name from the ancient Scots word for a poet - a maker of verse; which embodies the craft and attention that our team of distillers devote to each and every bottle.
Distilled by hand in small batches within our copper pot still, Annie, Makar Original is a perfectly-balanced juniper-led London Dry style gin of the highest quality... and we're glad the judges think so too!
PURCHASE MAKAR ORIGINAL DRY GIN HERE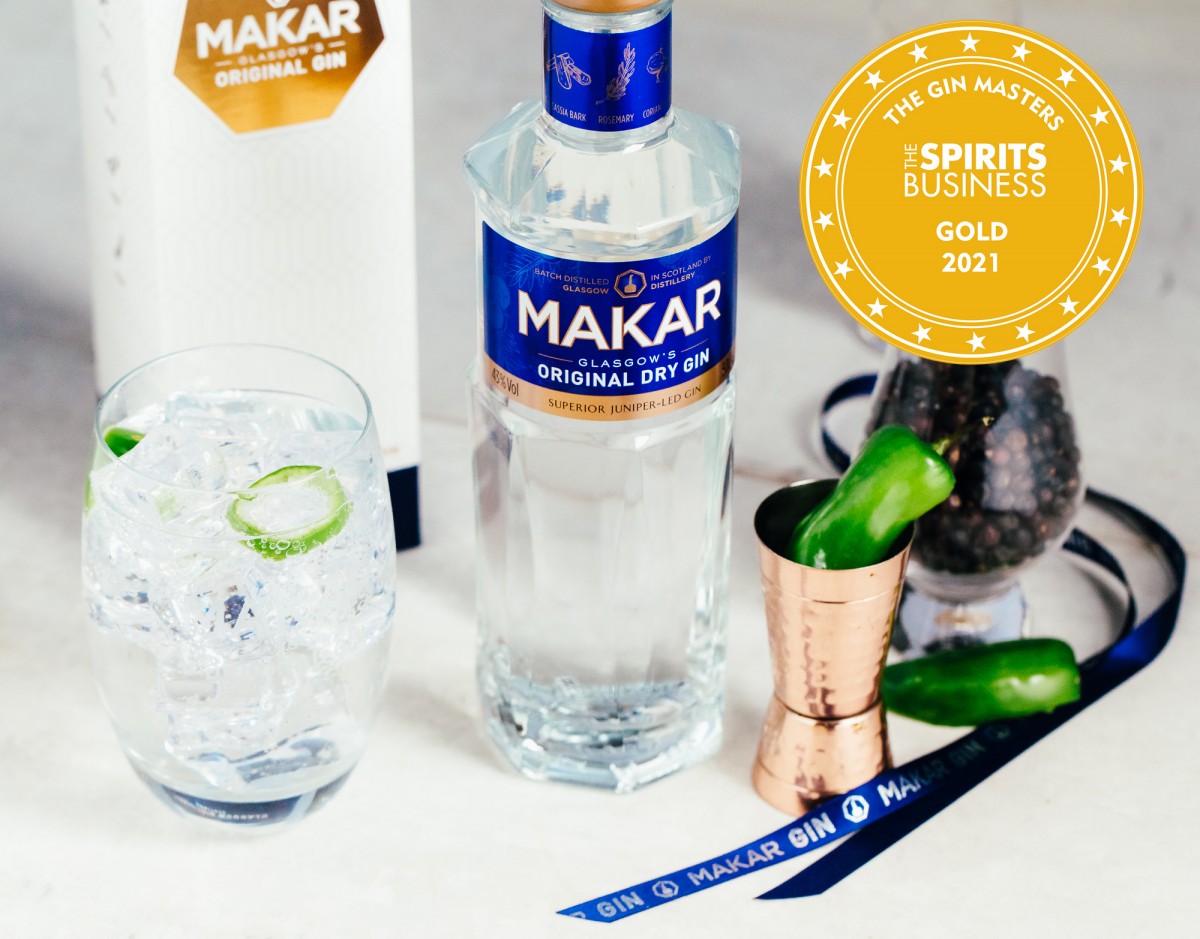 Numerous cask-aged gins were also enjoyed by the judges and we were delighted to be awarded a Gold Medal in this category.
The judges commented: "Winners included: "perfectly balanced" Makar Mulberry Cask Aged Gin."
David T Smith noted:
"It's probably been the most exciting year of cask-aged gin that we've had and I find it thrilling that there's that much innovation going on, and why not? There are so many different casks beyond typical oak finishes. Plus, for a distiller, how the cask interacts with the botanicals is such a rich sandpit to play in. It's a playground for a distiller, and we're seeing that with the stuff we've got here."
Our Makar Mulberry Aged Gin adds another level of complexity and uniqueness to our Makar Original Dry Gin; aged for 10 weeks in bespoke mulberry wood casks.
The result is an incredibly smooth and soft gin, pale to the eye, slightly woody on the nose and sweet on the palette. Mulberry Wood adds a hint of lemon, thyme and vanilla and a peppery finish.100% natural taste and colour.
PURCHASE MAKAR MULBERRY AGED GIN HERE