Glasgow Distillery
A Letter From The Founder On World Whiskey Day
Friday 17th May 2019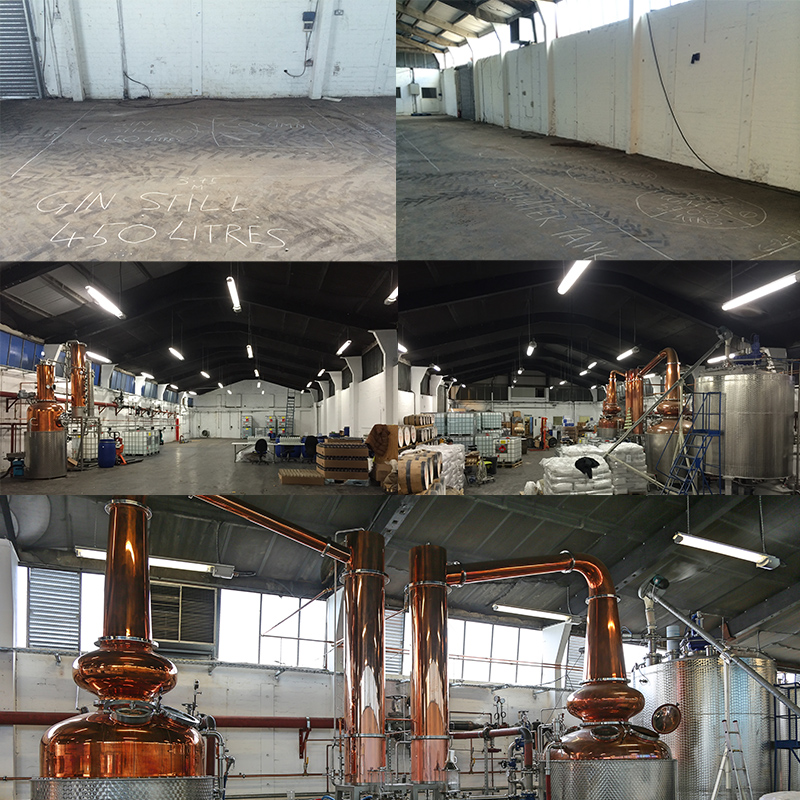 Today, on World Whisky Day, I'd like to take some time to reflect on the Glasgow Distillery Company's journey over the last seven years.
My fellow Co-founder and I, Mike Hayward, have been in the drinks industry for thirty years now. It was 1989 when we both started in the industry, working for various drinks brands both in the UK & Internationally.
We set up out first business together in 2002 and, through the work we did via that business, it was obvious to us that change was happening in the spirits industry. In the United States, we were witnessing the rise of micro distilleries and the craft beer explosion. We were certain that these trends were going to replicate themselves here in the UK at some point and we knew we wanted to be involved.
In fact, we knew we didn't just want to be involved, we wanted to be at the forefront of this exciting new time in small batch spirit production.
In 2011, shortly after deciding we were serious about starting The Glasgow Distillery, I took three months out of the business to research; create the business plan and secure some of the finance we required to get started. Our third Co-Founder, Ian McDougall, saw our ambitious plans and quickly came onboard.
I had already found our premises and, like many of our contemporaries, we started with the production of gin whilst our whisky plan was developing. Annie, our gin still, was delivered to the distillery in August 2014 and I remember standing in an empty building on a strangely roasting hot day in July with a stick of chalk, marking out where she & the rest of the equipment would sit, and still sit today.
In October 2014, we launched Makar Gin - the first Gin to be distilled in the city of Glasgow.
Fast forward five years and we now have five unique Makar Gin expressions, which have collectively picked up over 58 internationally recognised awards including the title of 'World's Best Flavoured Gin'.
Our first whisky still, named Tara after my daughter, arrived in December 2014 closely followed by Mhairi our spirit still in early 2015. It was such a small team at the time, and it ended up being just me and our first distiller filling our first cask. We had teething issues with the equipment, so we didn't want to create a big drama by inviting the press or anybody along to see us filling the cask. I thought, "let's just fill the cask, we'll make a big deal of it when it's three years old."
Three years later on the 5thMarch 2018, the 3rdanniversary of the first cask being filled, we launched our inaugural single malt whisky – 1770 Glasgow Single Malt Scotch Whisky. It was with great pride that we released our first 5000 bottles, which were quickly snapped up via an online ballot.
This year, we have followed this up with our 2019 Release and also revealed our plans for the future: 1770 Peated and 1770 Triple Distilled. Together, these three new expressions will collectively form the 1770 Signature Range.
We have now grown to 25 members of staff, split across a number of departments, the largest of which is the production team, and we are showing no signs of easing up.
1770 is entering new markets on a frequent basis. Some of the latest markets include Hong Kong, Japan, China, Taiwan & Indonesia. We were also recently awarded Whisky Magazine's UK 'Craft Distiller of the Year' Award and in the past two months, we have launched our first rum – Banditti Club Glasgow Spiced Rum.
The rest of 2019 looks to be just as busy, if not busier. We have two new stills to commission in the summer both named after some special females but that's for another day, we have our 1770 Peated expression coming out towards the end of the year, exciting additions to our Makar Gin range and some inspiring live music sponsorships in the pipeline for Banditti Club Rum and we will once again end the year as Headline Sponsors of The Glasgow Whisky Festival.
On this World Whisky Day, 2019, I want to thank everyone who has supported our journey so far. Thank you to our suppliers, partners, distributors and wonderful staff, but most importantly to our fantastic customers whether you're local to Glasgow, the UK or one of the many other countries who have encouraged and supported us along the way. Your reaction to our Whisky has been very humbling. Thank you for your passion and enthusiasm, thank you for your belief and your constant brilliant feedback. Without you, this whole journey would not have been possible.
To you all, I raise a glass (of 1770, of course) and wish you a very happy World Whisky Day, 2019.
Signed,
Liam Hughes,
CEO & Co-founder, The Glasgow Distillery Company.