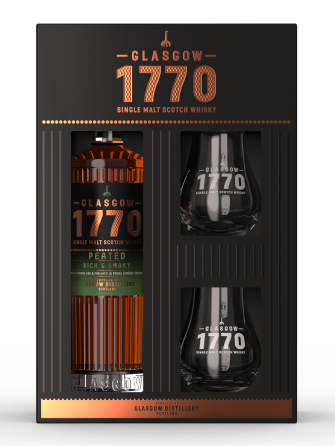 [% bottle_label %]

[% carton_label %]

[% bottle_label_peated %]

[% carton_label_peated %]
Glasgow 1770 Whisky Gift Pack
The Glasgow 1770 Single Malt whisky gift pack includes one bottle of Glasgow 1770 Single Malt alongside two branded Glasgow 1770 whisky glasses.
Choose between two award-winning single malts: Glasgow 1770 The Original, our fresh and fruity signature single malt; or Glasgow 1770 Peated, our rich and smoky single malt.
Each of the two Glasgow 1770 whisky glasses incorporate a tulip shape to enhance its nosing function. The tapered lip assists in directing the liquid to the tip of the tongue for the appreciation of the sweeter notes.
Delicious none Cocktails
There were no products found matching your search criteria
Related Items
You may also like
Whisky• 150ml

150ml Whisky

Whisky• 3 x 5cl

3 x 5cl Whisky