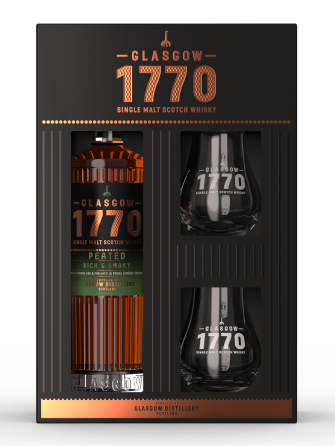 [% bottle_label %]

[% carton_label %]

[% bottle_label_peated %]

[% carton_label_peated %]
Glasgow 1770 Personalised
Design your own bottle of Glasgow 1770 Single Malt Scotch Whisky
Personalise your own bottle of Glasgow 1770 Single Malt Scotch Whisky for the perfect unique and bespoke gift. Perfect for Christmas, birthdays, retirements, weddings or anniversary's, this is your opportunity to personalise a bottle of whisky with a thoughtful message.
Choose between two award-winning single malts: Glasgow 1770 The Original, our fresh and fruity signature single malt; or Glasgow 1770 Peated, our rich and smoky single malt.
Enter the text you wish to be printed on the bottle label, this is limited to 30 characters. Then enter the text you wish to be printed on the gift carton label, limited to 25 characters. Each of these messages can be different and totally unique to you.
If you need assistance with personalisation then please don't hesitate to get in touch using our 'Contact Us' page.
Each expression is bottled at 46%abv.
Delicious 1770 Cocktails
There were no products found matching your search criteria
Related Items
You may also like